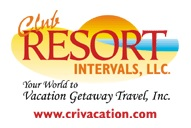 Manchester, NH (PRWEB) November 20, 2014
Club Resort Intervals is endlessly dedicated to providing the most outstanding and unique vacation experiences to their members all year round. With the holidays just around the corner, they know that it is very important that travelers can find the perfect destination to enjoy the season and create special memories for their loved ones. Club Resort Intervals knows that they can help these travelers can find exactly what they are looking for when it comes to an amazing holiday destination and, best of all, Club Resort Intervals can help them find it at an unforgettable price. To top it off, members can save even more and start planning their New Year vacations during the 25 days of Christmas sale.
From now until the end of 2014, members who book any 2015 one-week resort stay, all-inclusive vacation, or cruise will automatically receive $25 off per reservation. This applies to any destination but depends on availability. Additionally, the first 100 members to take advantage for this sale will be rewarded with an additional $25 to put towards their next 2015 Club Resort Intervals vacation stay. This is a huge opportunity to get 2015 travel planning started right. In fact, members can start planning multiple vacations at this exclusive rate as they are not limited to just one confirmed vacation during this special. This is the perfect opportunity for travelers to begin thinking about their travels in the New Year, and get a jump start on resolutions to see the world. They can lock in their fantastic vacation experiences with this special price and be ready for extraordinary adventure or unmatched relaxation in 2015.
Whether planning a vacation for the holidays or getting a jump start on fantastic 2015 getaway options, Club Resort Intervals members will always be in for a treat when they start planning their dream vacations. With access to some of the most desirable and unique vacation destinations all over the world at unbelievable prices, members can appreciate the fantastic options that they always have with Club Resort Intervals. Visit https://www.crivacation.com/ to learn more about planning an upcoming vacation with the help of Club Resort Intervals.
###
Club Resort Intervals
(800) 274-3979
service(at)crivacation(dot)com