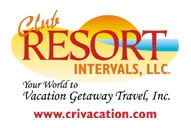 Manchester, New Hampshire (PRWEB) August 19, 2014
Club Resort Intervals is dedicated to providing travelers with the best vacation options available, and it shows that dedication by constantly acquiring new spots for its clients. CRI is happy to announce that it has three new options for travel in 2015, and wants to discuss all the outstanding ways that travelers can experience these great new destinations.
1. Ireland: Ireland is a country full of tradition, tranquil beauty, and fun. While traveling the green countryside is a great way to relax, there are many attractions to visit in Ireland as well. Must see sites and activities include the Guinness Storehouse, The Burren, Newgrange, and The Ring of Kerry. There are also many festivals that go on in the country throughout the year that are musts for visitors.
2. Australia: The land down under is a fantastic spot for any vacationer to visit. Here, travelers can do just about everything from snorkeling along the great barrier reef to visiting the famous Sydney Opera House. This is a country with a lot to offer guests and Club Resort Intervals knows that anyone can find something that they want to do here. Australia is the perfect destination for thrill seekers, adventurers, culture lovers, and those who just want to get away from it all for a peaceful vacation.
3. Beijing: This is one of China's oldest cities and it is a perfect destination for those interested in the culture and history of China. This city has become one of the top tourist destinations in the world and with good reason. Tourists can see some of the most famous sites in all of China here including the Great Wall of China, Tiananmen Square, the Forbidden City, and the Summer Palace among many other magnificent sites.
Club Resort Intervals will get the best rates for travelers who want to visit these great new destinations. These travel options are fantastic opportunities to explore the world and see some of its most beautiful and enjoyable sites. Do not hesitate to take part in the amazing experiences that are waiting. For more information visit http://www.crivacation.com/.
###
Club Resort Intervals
(800) 274-3979
service(at)crivacation(dot)com