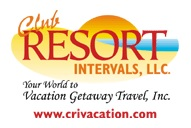 Manchester, NH (PRWEB) August 21, 2014
Club Resort Intervals is an industry leader in vacation fulfillment that has been trusted for years. It is the Gold Standard in the industry and strives to provide the best care and service to all of its members. Additionally, CRI offers a number of outstanding services and products that help travelers with all needs find their perfect getaway and achieve their dream vacation experiences. The vacation expert constantly tries to improve and expand its services with new products, destinations, services, and facilities; and as it continues its pursuit of excellence, it is has announced that it is now seeking a new sales center to handle sales.
Previously, Club Resort Intervals had an exclusive relationship with a single company that was selling its product. However, that relationship has now ended, and the company is now seeking a new sales center to take over the sales of its product. The outstanding vacation provider is accepting sales centers in the Branson, MO area to fill this role. The new sales center will help the company promote its product to potential members, sell its services, and get in touch with eager travelers that will appreciate all that the company has to offer.
CRI has many exciting products for its members, and this coming year will be adding several locations for travelers including spots in Ireland, Australia, and Beijing, as well as cruises along the Mississippi River. These, as well as the vacation spots that the company already provides, will all offer new and exciting experiences for travelers. Working with a new sales center will also allow CRI to offer these services and products to many more vacationers who will enjoy taking part in the fantastic travel experiences that are available. CRI is very excited to be adding this new sales center, and in tandem with the launch of a new website, the hope is that it will help the company further pursue its commitment to its services and its members.
Club Resort Intervals is a respected member in the industry because of all the outstanding services that it offers and its excellent relationship with travelers everywhere. CRI has much to offer any traveler with its focus on fantastic vacation fulfillment. To learn more about these services, please visit http://www.crivacation.com/. To view this release in Spanish, visit: http://enterateahora.com.mx/club-resort-intervals-aceptando-nuevos-centros-de-venta-en-branson-mo/.
###
Club Resort Intervals
(800) 274-3979
service(at)crivacation(dot)com