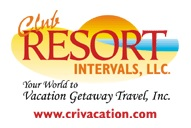 Manchester, New Hampshire (PRWEB) September 18, 2014
Summer has long been the most popular season for travel. It is made up of families who get the kids together during school vacations to head for theme parks and beaches where they can enjoy family fun and the sunny weather. However, while the summer certainly has its perks, Club Resort Intervals, a top luxury vacation provider, believes that the fall also is an outstanding and under-appreciated time for travel. In fact, there are many advantages to traveling during the fall, and here these reasons are detailed so that travelers will consider taking advantage of these perks with a fall vacation this year.
1. The weather: The weather is lovely in the fall for many reasons. It starts to cool down in many areas and allows for the perfect atmosphere for outdoor activities. Additionally, spots like Myrtle Beach still experience weather and waters that are warm enough for beach lovers to hit the sand and the surf. In many ways, the fall is the ideal season for those who want to enjoy nature.
2. The small crowds: The summer is a crowded season, but once the weather starts to change and the kids are getting back to school, the crowds die down. This means that fall travelers can visit popular attractions like theme parks without the massive tourist crowds that they would have been contending with just months before. Busy airports also die down so even getting ready for a flight can be an easygoing experience.
3. The deals: Because the fall is a less popular time for travel, Club Resort Intervals reveals that there are a number of amazing deals that are offered to draw in new fall crowds. Everything from flights to attractions may see a price drop, so those who really want to get some bang for their buck should consider the advantages that the fall season offers.
Club Resort Intervals always wants traveler's experiences to be amazing, and as experts in providing amazing travel experiences, they know that fall travel will offer many amazing perks who those who decide to travel in the upcoming months. For more information on taking advantage of fall travel perks visit http://www.crivacation.com/.
###
Club Resort Intervals
(800) 274-3979
service(at)crivacation(dot)com