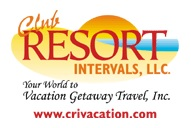 Manchester, New Hampshire (PRWEB) October 10, 2014
There are a lot of things that can happen during a vacation that can take away time from simply enjoying being on a trip and relaxing. To help travelers avoid losing time, Club Resort Intervals has assembled a handful of quality tips designed to help travelers save as much time as possible for relaxing on vacation.
1. Travelers heading to their destination on the road can pack their on-the-road clothes in zip-loc bags for easy access. Instead of having to load and unload full suitcases at every hotel, travelers can simply open up a suitcase, grab one zip-loc bag for everyone and a bathroom bag of supplies. This will greatly cut back on the time spent loading and unloading bags from the vehicle, and will help keep things easily organized in the suitcases as well. At the end of the day, simply re-store the dirty clothes in the empty bag and mark them as laundry.
2. One aspect of vacation travel that many travelers overlook is to keep their GPS updated. As road names are changed, and new highways built, a GPS can become outdated, potentially sending a traveler to a route that does not exist anymore. During the packing phase of vacation preparation, travelers should take a few moments to go online and download the latest software update for their GPS unit or app. Taking a few moments to be on the safe side can greatly pay off in the long run.
3. If travelers are utilizing airlines for travel, Club Resort Intervals highly recommends that travelers utilize online check-ins if at all possible. Checking in ahead of time allows the traveler to bypass the lengthy check-in lines at the airport, and head right for the security checkpoints. Many airlines even feature smartphone apps that people can utilize. If a traveler is heading to the airport in a taxi, they can take a few moments while in transit and save themselves a good chunk of time before they even arrive to the airport.
With these handy travel tips in mind, Club Resort Intervals is positive that travelers will be able to cut back greatly on wasted vacation time. This will allow them much more time to spend relaxing when they are enjoying their fall travel destinations. For more information on great fall travel this year, visit https://www.crivacation.com/.
###
Club Resort Intervals
(800) 274-3979
service(at)crivacation(dot)com