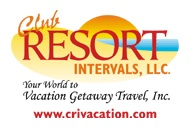 Manchester, New Hampshire (PRWEB) October 16, 2014
One of the few drawbacks of a vacation is the overall cost of the experience. Club Resort Intervals recognizes this drawback, but believes that everyone should be able to have their fantasy vacation, and is helping travelers out by providing a handful of great money-saving tips.
For parents taking to the road with their children, entertainment and snack costs can add up, especially when there are long waits involved in travel. Children require a bit more attention and distractions than adults do, especially during long car rides. One of the easiest ways that parents can cut back on unnecessary vacation expenditures is to pack snacks for the family to enjoy during the trip. A cooler full of Gatorade, trail mix, fruit snacks, and chips is easy to access while on the road and inexpensive compared to gas stations snacks. Packing freezer packs instead of ice will also help keep things neat, and can, usually, be re-frozen overnight in the resort's freezer.
Club Resort Intervals knows that many travelers like to relax while enjoying their vacations. However, those travelers who are looking to save up a bit more should consider planning to cook some meals during a few days and nights while they are traveling. Sandwiches and chips are items that everyone can enjoy. For dinner, local grocery stores can be visited to pick up ingredients and many resorts feature grills that can be used for burgers, hotdogs, or other meals. The added benefit here is that not only are these meals cheaper, but they have the potential to be much healthier than what would be served at a restaurant. This is also a perfect choice for travelers who have specific dietary needs.
To save more, travelers can utilize services like Groupon to scout for local deals, according to Club Resort Intervals. Equipped with these smartphone applications, travelers can easily see the sorts of affordable activities and services available to them when they are in their destination. These services typically include things like event tickets, buy-one-get-one rates at attractions, and discounts on certain restaurants. From spa visits to shopping trips and emergency auto repairs, these services can save travelers countless amounts of money in the long run.
Travelers looking to save big on their next vacation experience are encouraged to look into membership with Club Resort Intervals, where world-class resort accommodations are available for family-friendly rates. For more information visit https://www.crivacation.com/.
###
Club Resort Intervals
(800) 274-3979
service(at)crivacation(dot)com