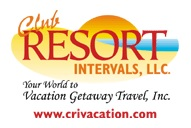 Manchester, NH (PRWEB) November 24, 2014
Club Resort Intervals is one of the most respected members of the travel industry because it maintains a relationship with its members that is truly unique. It is through this commitment to its members and the enthusiasm that it shows when helping those members create dream experiences that Club Resort Intervals has been able to establish itself as a truly loved organization. The result is that this industry leader has earned an A rating with the Better Business Bureau.
Club Resort Intervals is able to give its members an extraordinary experience unlike any other. It gives its members access to the world's most sought after vacation destinations for unbelievable experiences, and offers excellent customer service for each and every member. Additionally, members have outstanding opportunities to take advantage of deals like the 25 Days of Christmas Sale which offers them access to astounding resort stays, cruises, and all inclusive vacations at prices that will allow travelers to find the perfect vacation to suit their every need. It is this ongoing dedication to members that has truly allowed Club Resort Intervals to establish their fantastic relationship with members and maintain their high rating with the BBB.
In addition to providing members with exceptional service and stunning vacation memories, Club Resort Intervals always makes the extra effort to create the perfect membership experience. They do this in little ways that make great impact like always improving their website to make it easy for members to find the information that they need, and developing fantastic new products that will make it easier for members to create unique vacations. With all that it offers, it is easy to see how it has come to such a high rating with the BBB.
An A rating with the BBB is an achievement that Club Resort Intervals is truly thankful to have received. It is a testament to the accomplishments of this organization and the astounding relationship that it has been able to inspire with its members and its community. As a new year approaches, Club Resort Intervals celebrates this rating and looks forward to another year of helping the vacation dreams of its beloved members come true. Visit https://www.crivacation.com/ for more information and to start planning an unforgettable vacation experience with Club Resort Intervals.
###
Club Resort Intervals
(800) 274-3979
service(at)crivacation(dot)com