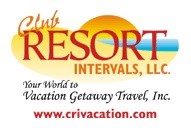 Manchester, New Hampshire (PRWEB) February 12, 2014
Club Resort Intervals fulfills its members' desires as the biggest luxury vacation provider in the United States and the world. But CRI knows that it's not enough to provide the lowest-priced, most affordable luxury vacations. In an effort to further improve the relationship between CRI and its customers, this luxury vacation provider is pleased to announce its new initiative that provides a direct line of communication between members and customer care specialists to ensure that members have the best possible vacation experience.
For Club Resort Intervals, decreasing complaints and increasing membership satisfaction is of the utmost importance. In order to do that, Club Resort Intervals is opening the dialogue in the form of a website available for members and non-members to post complaints so that customer care specialists can find a solution in a timely and professional manner.
Club Resort Intervals members no longer have to voice their complaints into the vast expanses of the Internet in hopes their concerns will be heard. CRI understands the value of member feedback and knows that by improving the dialogue between members and service providers, everyone will benefit.
More than just members will be able to benefit from Club Resort Intervals' new website. The website is now available to members and non-members alike to voice their opinions about the numerous products and services that CRI provides. For non-members, the website includes information clearing up common misconceptions and concerns that come after visiting a CRI presentation or in trying to redeem travel vouchers for CRI products.
From sandy shores to evergreen forests, Club Resort Intervals offers more than 6,000 resort possibilities all over the world for its members to enjoy. For more information on how to be a member and receive the best deals on luxury vacations, contact Club Resort Intervals.
*******
Press release distributed by JW Maxx Solutions, a leader in online reputation management and part of a family of companies that includes Prensa Ahora and Enterate Ahora.