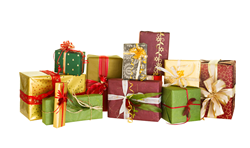 Someone in the U.S. needs blood every two seconds and your single donation could help save up to three lives.
Setauket, New York (PRWEB) December 01, 2014
Tomorrow is #GivingTuesday, the day amid the hustle and bustle of family celebrations and holiday shopping that people are reminded to give back and make charitable contributions. ClubsGalore encourages everyone to think beyond monetary support and consider donating blood at a local Red Cross location. Someone in the U.S. needs blood every two seconds and a single donation could help save up to three lives.
Earlier this year, the American Red Cross introduced a first-of-its kind Blood Donor App. Through the app, users can schedule appointments, track total donations, earn rewards and invite others to join them on a lifesaving team. Individuals who donate blood through the American Red Cross can redeem rewards for exclusive ClubsGalore products and discounts.
"Download the app via iTunes or Google Play and make an appointment today," encourages Maria Pietromonaco, Founder & CEO of ClubsGalore. "Then treat yourself to a ClubsGalore's gourmet gift or send a little 'Thinking of You' to an elderly neighbor or that acquaintance who went the extra mile to help you out."
Starting Wednesday December 3rd, keep the spirit of giving going. Visit the ClubsGalore Facebook page and enter to win a 12 Days of Christmas giveaway.
Make time for the truly important things in life this holiday season: Family, friends and helping those in need.
To learn more about the 3rd annual #GivingTuesday movement, visit http://www.givingtuesday.org.
American Red Cross
Eligible donors with all blood types are needed, especially those with O negative, A negative and B negative. To learn more about donating blood and to schedule an appointment, download the Red Cross Blood Donor app, visit redcrossblood.org or call (800) RED CROSS (800-733-2767).
ClubsGalore
ClubsGalore.com was established in 2006, and merged with Hadron Global Partners in 2012. They offer 39 curated monthly gift clubs including award-winning wines, premium liquors, desserts and sweets, gourmet foods and delicacies, and more. For more information visit their website at http://www.ClubsGalore.com.