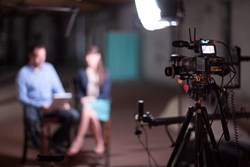 Search trends in today's online markets are quite obviously angling in the direction of video...they're looking to learn, to experience and to engage in a visual manner.
(PRWEB) February 14, 2014
In today's digital world, online video is having a wide-ranging effect far beyond anything they could have managed before. With over 6,000 hours being uploaded every hour the available content is growing much faster than it was thought possible even this time last year.
ClueVideo.com, a Florida based Video Directory, is now using this medium to help people find needed information and services they require in a totally innovative way. Here are some surprising statistics on using videos in your business marketing arsenal.
Globally, online video traffic will be 55 percent of all consumer Internet traffic in 2016. (Cisco)
52 percent of consumers say that watching product videos makes them more confident in online purchase decisions. (Invodo)
89 million people in the United States are going to watch 1.2 billion online videos today. (ComScore)
Online video users are expected to double to 1.5 billion in 2016. (Cisco)
Only about 24 percent of national brands are using online video to market to consumers. (Kantar Media)
Online video now accounts for 50 percent of all mobile traffic and up to 69 percent of traffic on certain networks. (Bytemobile Mobile Analytics Report)
Consumers give up on an online video if it doesn't load in two seconds. (University of Massachusetts Amherst and Akamai Technologies)
Users sharing video on retail and brand sites chose Facebook 46 percent of the time, with email accounting for 40 percent and Twitter capturing 14 percent of shares. (Invodo)
Mobile and tablet shoppers are three times as likely to view a video as laptop or desktop users. (NPD)
Mobile video ads that include social media buttons drive 36 percent higher engagement. (Rhythm NewMedia).
Online video production will account for more than one-third of all online advertising spending within the next five years. (Borrell Associates)
76 percent of marketers plan to add video to their sites, making it a higher priority than Facebook, Twitter and blog integration. (Social Media Examiner)
92 percent of mobile video viewers share videos with others. (Invodo)
More than 1 billion unique users visit YouTube each month, spending more than 4 billion hours watching videos (YouTube).
2 billion video views per week are monetized on YouTube, and every auto-shared tweet results in six new YouTube browsing sessions (ReelSEO).
According to Mike Safrin, Clue Video's founder, "Search trends in today's online markets are quite obviously angling in the direction of video, which supplies what people want and when they want it. They're looking to learn, to experience and to engage in a visual manner that simply doesn't happen with reviews in text or even fancy websites."
Clue Video's new service provides a new, easier way for people to hunt for local businesses and services without having to look through so many unhelpful results before they can find the ones they want. Clue Video removes the impersonal feeling that generic searches result in, and allows the local businesses to introduce themselves and their people via an online video through which they can talk directly to their potential customers. This personal video enables the consumer to feel as if they actually know the company and its staff and can trust them to provide the quality service they need.
Unlike the slick animations or professional voice-overs provided in the standard advertisements that are common of business marketing videos directories; Clue's video's show the owners themselves talking about their own businesses and services.
Peter Celnicker from local marketing firm Deliverabilities, one of the first to take advantage of the new service, has said that they have seen some good reactions to their video ad on Clue Video. His firm loves what they see as an affordable, effective service that markets them and their clients very well. 
Clue Video's service is already available to all companies nationwide, although most of the existing listings are in Clue Video's home area of Florida where they recently launched.
About Clue Video
ClueVideo.com is an innovative and cost effective advertising tool which allows your business to tap into the most research-proven, customer converting advertising medium: video ads. We fill the gap between generic online search and personal referral, by placing your business in front of your customers 24/7 with a personal digital introduction. Unlike traditional advertising, Clue Video Business Directory takes a "find a local business and meet the people behind it" approach, allowing advertisers to build trust and a personal connection with consumers, using the power of video. Advertisers simply place their Video Ads into the categories that best fit their products & services while consumers shop the Clue Video Business Directory by viewing the various video messages and presentations. For general inquiries about clue video, contact: 954 837 6300 For media inquiries, contact: info(at)cluevideo(dot)com.