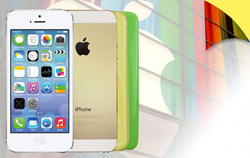 Cell phones and tablets are becoming a far more real part of people's lives. They are becoming powerful tools that help us live a more informed life. - Mike Safrin
Fort Lauderdale, FL (PRWEB) September 17, 2013
September 10th marked the latest announcement from tech giant Apple about their newest player in the smart phone markets. The iPhone 5s represents a huge leap forward for Apple, and although the dimensions of the phone remained fundamentally unchanged, that is where the similarities end. This phone represents, in Apple's mind, their most "forward-looking" iPhone ever launched.
With new functionality including a massive processor upgrade, serious changes to the camera and a major adjustment in how data is processed for apps within this new upgrade boasts an impressive list of noteworthy changes to the phones.
This however leads to the big question of how this most recent upgrade will affect the general public and its implications for the future of smart phones.
The answer is not all that simple, but Mike Safrin, the Founder of ClueVideo.com says that it is further opening up the door for a more mobile world.
"Cell phones and tablets are becoming a far more real part of people's lives. They are more than just ways to update your status or play Angry Birds," he said. "They are becoming powerful tools that help us live a more informed life. These new additions to the phone and to the processor speed show us that Apple and the other phone manufacturers realize that they need more power to engage with the web, interact online and find what they are looking for more quickly and easily."
Clue Video is a recent addition to the online marketing world and has been taking it by storm by offering local advertisers and buyers a way to make better buying decisions by using video as a means to find and choose local products and services.
"The processor upgrades and the camera and video capability that Apple showcased at their launch show that they are banking on video as the future. And that is an exciting development." Safrin said when asked what he thought of the new iPhone.
Video has quietly taken the world by storm over the last few years and now mobile video is slowly becoming the wave of the future. YouTube reports that of the 6 billion hours of video being watched every month, a staggering 25% of that is now on mobile devices. That accounts for an amazing one billion views each day from mobile platforms.
But YouTube is not alone in its major growth within the mobile share of the market. Clue Video has also seen a major increase in the number of mobile users. "It makes sense" Safrin continued, "we help buyers find local service providers, so if you are looking for something nearby, there finding that on your cell is often the easiest way. Our app was created for that same purpose, and we are excited at the possibilities this will present our users when it goes live on the app store."
With this launch, Apple has thrown down the gauntlet to other phone manufactures by once again raising the bar of what a phone can be and should be. This phone represents a nearly 56 percent increase in processor capability from the original iPhone, and it is clear that this and the other major changes have been designed, in part, to allow for a better video experience, faster internet, and longer battery life.
The future is clear, and services like Clue Video and YouTube are what phone manufacturers are designing phones to support.
About Clue Video.
Clue Video is an innovative and cost-effective advertising tool which allows your business to tap into the most research-proven, customer converting advertising medium: video ads. We fill the gap between generic online search and personal referral, by placing your business in front of your customers 24/7 with a personal digital introduction. Unlike traditional advertising, Clue Video Business Directory takes a "find a local business and meet the people behind it" approach, allowing advertisers to build trust and a personal connection with consumers, using the power of video. Advertisers simply place their Video Ads into the categories that best fit their products & services while consumers shop the Clue Video Business Directory by viewing the various video messages and presentations. For general inquiries about clue video, contact: 954 837 6300 For media inquiries, contact: info(at)cluevideo.com