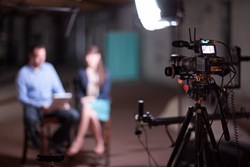 We want people looking for a plumber or an accountant to be able to see that person, hear in their own words what they are about and what they are good at. Picking from an alphabetical list is so 1990
Fort Lauderdale, FL (PRWEB) August 30, 2013
Video marketing is taking the internet world by storm and with new services and abilities being offered every day, this market is as confusing as it is exciting. ClueVideo.com, a recent startup that has staked its claim on the local side of video marketing. It has announced today that it will offer new business customers in the Miami area video production services at no coast during the month of September.
Clue Video has taken the internet world by storm and is proving to fit a very specific need for its customers as well for those people who are searching for services in the local market.
Unlike YouTube, where the majority of the content is user driven, this is a very specific format that is making the process of buying and selling services in a local market significantly easier.
"We started Clue Video because we recognized that small, local, businesses wanted to talk to the people that live in their neighborhoods and that people who wanted those same services wanted to see providers that really worked in those same neighborhoods. It was a market that really left a lot to be desired." Mike Safrin, the Founder of Clue Video said.
Mike is not wrong either, statics for services like YouTube show that although there are huge amounts of video being uploaded each day 100 hours of video content uploaded every minute and enormous amounts of videos being watched (1 billion users watching over 6 billion hours of video each month) that over 70% of that is outside the United States.
The internet world has been shifting to much more niche marketing services for some time now with Pay Per Click ads in Google and Facebook where you can target a demographic and or a region, but in the video market, it has been difficult to find services that had such specific reach.
Clue Video has been experiencing tremendous growth over the last 6 months as they have launched in Florida and New York and have seen major increases in both advertiser and consumer acceptance.
"We want to stand alone as a real place for consumers to connect with local businesses. We want people looking for a plumber or an accountant to be able to see that person, hear in their own words what they are about and what they are good at. Picking from some alphabetical list is so 1990." Safrin continued.
This new school approach to video is turning heads around the online marketing world and is giving people a new way to find the services they are looking for. They recently announced that they are launching a new app that will be available at the Apple App Store in the coming weeks and the android marketplace shortly thereafter.
Local search is the new now in the advertising world, and this little service is offering something that seems to be changing the game.
About Clue Video.
Clue Video is an innovative and cost effective advertising tool which allows your business to tap into the most research-proven, customer converting advertising medium: video ads. We fill the gap between generic online search and personal referral, by placing your business in front of your customers 24/7 with a personal digital introduction.
Unlike traditional advertising, Clue Video Business Directory takes a "find a local business and meet the people behind it" approach, allowing advertisers to build trust and a personal connection with consumers, using the power of video. Advertisers simply place their Video Ads into the categories that best fit their products & services while consumers shop the Clue Video Business Directory by viewing the various video messages and presentations.
For general inquiries about clue video, contact: 954 837 6300 For media inquiries, contact: info(at)cluevideo(dot)com.