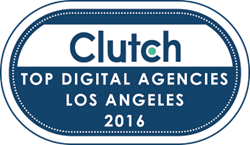 Los Angeles, CA (PRWEB) April 26, 2016
After another intense evaluation of services offered by LAD Solutions, online IT research firm, Clutch, has announced its top digital marketing agencies for 2016 and LAD Solutions has ranked as one of the top firms. The announcement has been made via a press release published to the Clutch website as of April 14, 2016.
This list of the top Los Angeles digital marketing agencies was determined using Clutch's proprietary Leaders Matrix methodology, a research model that maps each firm's focus against its ability to deliver on clients' expectations.
Clutch is a B2B research firm based in Washington DC that provides information on the top US service providers and solutions. Clutch has earned its place as a reputable and reliable source for information on businesses thanks to the company's innovative research process, which utilizes traditional B2B research in combination with consumer review services.
According to the findings of this research, LAD Solutions has been proven to help clients to accomplish their marketing goals via planning and executing complex, multi-channel marketing campaigns.
Clutch was able to determine that client reviews, past experience, industry recognition, market presence and focus were some of the major attributes that separated LAD Solutions from other firms in the area. To date, Clutch has reviewed more than 1000 companies in over 50 market segments in order to find only the best companies in each sector.
LAD Solutions has also been ranked against several other SEO companies for 2016 and has outperformed many industry competitors. Thanks to this announcement, LAD Solutions has received special recognition via the Clutch website. Achievement badges are displayed along with a complete review of LAD Solutions and a company comparison.
To find out more about the Clutch's methodology and its rankings for LAD Solutions, the company profile for LAD Solutions can be found on the Clutch website. For additional questions about LAD Solutions and this recent announcement, the founders of the company have requested that requested that inquiries be directed to their media contact.
About LAD Solutions: LAD Solutions is a Los Angeles based SEO company providing SEO and PPC advertising services to business throughout the Los Angeles area. Founded by SEO experts, Lakshmi Kodali, Ali Pourvasei, and David Barkhordari,, LAD Solutions helps businesses to increase online visibility and drive traffic via their advanced online marketing techniques. To learn more about the services offered by LAD Solutions, visit http://www.ladsolutions.com.