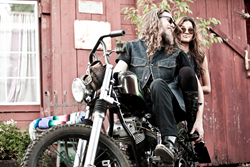 What really sets us apart from other premium denim brands is that our vests are lined with virgin wool fabric and our buttons are individually cast in bronze the old fashioned way.
Bodega, CA (PRWEB) May 20, 2014
Raising $40,000 in 30 days to produce a premium denim product isn't the most settling notion to most families trying to make ends meet in today's economy, but two passionate vintage motorcycle riders from Bodega have created something that might just be worth the risk.
Marc Bencivenga (44) and Jennifer Klein (39) designed what they're calling the "Dig" motorcycle vest. Unlike your average denim garment, the denim fabric they use is extremely rare and made on vintage shuttle looms at the most revered mills in the world. What really sets them apart from other premium denim brands is that these vests are lined with 100% virgin wool fabric and their buttons are individually cast in bronze the old fashioned way in California – handcrafted to last a lifetime of road-weathered abuse.
One of the mills Clutch Monkey uses to make their denim is the last mill in North America that uses vintage shuttle looms. In the 70's they discontinued all of these shuttle looms because of the explosion of machinery technology. Fortunately, someone within this mill's history had the foresight to store some of the older looms and in the late 90's a couple of them were pulled out of storage due to the renewed interest in vintage premium denim and the character associated with denim made on these old looms. Since then, they have refurbished most of their vintage looms by machining parts that were missing or broken and today have a pretty impressive collection of working vintage shuttle looms.
After creating their reversible Dig vest, made from the finest materials in the world, their retail pricing soared to well over $600. Determined to never sacrifice quality, Bencivenga and Klein were at a challenging crossroad – turn to retail and sell to high-end department stores or develop an innovative approach where their premium designs are sold directly to the riders who buy them? By utilizing a crowdfunding mechanism to raise capital, Bencivenga and Klein decided to go with the latter where they believe they'll be able to raise the necessary funds to achieve their first large production run and at the same time offer their goods directly to the consumer at their true wholesale price.
Kickstarter turned out to be the perfect platform to test this unique approach with a goal of raising $40,000 - a necessary amount to fund their first large-scale production run in San Francisco. "With a croudfunding model, it is possible to offer masterful design and premium quality at a price that makes sense to both the consumer and the producer. We definitely want to make these designs available to the folks we ride and build motorcycles with, but the traditional retail model will not make it possible" said Bencivenga.
"This is really the best of both worlds because we get to stick to premium quality and at the same time offer our vests to the public at a reasonable price. In addition, we let the consumer choose what ultimately gets produced and that direct connection is very important to us in building the brand," said Klein.
Be sure to visit Clutch Monkey on Instagram, Facebook, their Blog or Twitter.
You can find Clutch Monkey's Kickstarter campaign at Clutch Monkey Kickstarter.
If you would like more information about the Clutch Monkey Project, or to schedule an interview with Marc or Jennifer please email them at info(at)clutchmonkey(dot)com.