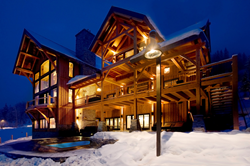 Banff, AB (PRWEB) September 23, 2014
CMH Heli-Skiing, the world's largest and longest-serving Heli-Ski operator has partnered with one of the world's most luxurious ski chalets to offer the ultimate in Heli-Skiing heaven.
Bighorn, a 15,000 square-foot timber-framed lodge and the brainchild of two ski-loving British entrepreneurs, sits majestically overlooking the Columbia River near Revelstoke, B.C. in the heart of the world's deep-powder skiing mecca.
The magnificent lodge offers unparalleled luxury and is equipped with its own helipad, state-of-the-art cinema room, games room, indoor current pool, sauna, outdoor hot tub and fully-equipped gym. Bighorn's impressive array of amenities is matched by its hospitality with an award-winning, private executive chef on hand to create tailor-made gourmet meals and a personal concierge ever at the ready to attend to any conceivable whim.
Hailed by Forbes Life magazine as "the apex of the apex" and by Tatler magazine as "the king of heli-lodges", Bighorn was quickly identified by CMH Heli-Skiing's President, Joe Flannery, as offering the perfect marriage between the sport's longest-operating company and the industry's newest darling.
"As we prepare to celebrate 50 years of Heli-Skiing in 2015, we're thrilled to introduce Bighorn to the CMH portfolio of Exclusive offerings," said Flannery. "This lodge has set a new standard for premium ski accommodation and perfectly reflects the unique and bespoke Heli-Ski experience sought after by our most discerning guests."
CMH will accommodate private groups of up to ten people at Bighorn, providing them with exclusive use of a Bell 212 helicopter for their daily excursions into the CMH Revelstoke tenure, famous for its diversity of terrain and some of the best deep-powder skiing on the planet.
With over three million skiable acres of terrain hand-chosen by the company's founder, Hans Gmoser, in the 1960s, CMH Heli-Skiing continues to offer its guests the crème-de-la-crème of Canada's best Heli-Skiing settings. CMH Heli-Skiing operates from December to April and bookings for Bighorn and all CMH properties can be made by calling 1-888-760-2846 or by contacting the global sales representative or agent in your region.
ABOUT CMH HELI-SKIING & SUMMER ADVENTURES:
Offering heli-adventures since 1965, CMH Heli-Skiing & Summer Adventures is the world's first and largest Heli-Skiing and Heli-Hiking operator. From their head office in Banff, Alberta, CMH operates exceptional mountain experiences based from 11 lodges located in the Bugaboo, Purcell, Selkirk, Monashee and Cariboo ranges of British Columbia, Canada. Heli-skiing takes place each year from December through April, and CMH Summer Adventures take place from July to mid-September.
Media Contact:
Jeremy Roche, Director of Marketing
jroche(at)cmhinc(dot)com
Tel. (403) 762 7818
Photo by: Bighorn Lodge