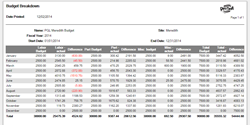 Our [user] interface re-design changed the CMMS playing field, and this new...release shows that we're not slowing down.-- Paul Lachance, President and CTO, Smartware Group, Inc.
Center Harbor, NH (PRWEB) December 08, 2014
Smartware Group will release its latest update to its award-winning Bigfoot CMMS Enterprise and Enterprise+ solutions this month. Both editions, designed specifically for the maintenance professional within a variety of industries and environments, will include the major feature additions of Preventive Maintenance (PM) stacking, part kits and reservations, and message notifications. The Bigfoot CMMS Enterprise+ edition will showcase asset and location mapping and budget management. All of the new features will be accessible through Bigfoot's modern and simple user interface, which was the focus of a significant re-design introduced earlier this year.
"Smartware Group exists to provide powerful, simple solutions in order for maintenance professionals to excel – that's all we do, every day," says Paul Lachance, president and CTO of Smartware Group. "Our interface re-design changed the CMMS playing field, and this new maintenance software release shows that we're not slowing down."
The new update includes, but is not limited to, the following feature additions:
Mapping Facilities and Assets
For maintenance directors responsible for multi-site facilities, Bigfoot CMMS will now display the geographical location of all physical plant sites within an organization, including individual plants with multiple street addresses, plus the location of assets and associated work orders. Using fully integrated Bing® maps, users will be able to view and identify individual facilities, and check on the maintenance status of each asset.
Budget Management
Based on monthly, quarterly or annual allocations, Bigfoot will allow maintenance professionals to create a variety of flexible budgets using budget templates for the overall enterprise, region, site – all the way down to individual assets. Budget templates may be configured by parts, labor, miscellaneous costs, as well as the type of work order to include for "actual" costs for PMs, corrective maintenance, or both. Reports can be adjusted to show actual versus budgeted amounts, or project comparisons based on work order history.
PM Stacking
Bigfoot CMMS users will now be able to "stack" PMs for the same asset and produce one work order for multiple tasks that share the same schedule, whether the PM is performed weekly, monthly or annually. This feature will give unlimited consolidation options for multiple PMs in a single work order, so one technician may carry out all PM-related tasks if preferred. Resulting inventory counts are then automatically adjusted based on the required spare parts reserved for the combined PM work order. Maintenance departments benefit from the consolidation of work, minimized labor costs, and associated paperwork.
Spare Parts Kits and Reservations
With this new Bigfoot maintenance software release, the spare part kitting feature allows for easier job management when working with a large number of parts as users may join any number of individual parts into a kit for a PM. The part reservations feature gives authorized maintenance professionals the ability to view PMs for the week and plan which parts to reserve for pending work orders. Inventory is then automatically adjusted as if the reserved parts have been dispatched, to help ensure that parts reporting remains an accurate part of the planning process.
Message Notifications
Smartware Group will begin to provide prioritized message notifications to all users directly within the Bigfoot application. These message notifications will alert users about new software and hardware updates and issues, documentation, software tips for maximizing features, and other important information.
For more information about these new features and to schedule a demonstration of Bigfoot Enterprise and Enterprise+, visit http://www.bigfootcmms.com.
About Smartware Group, Inc.
Smartware Group, Inc., headquartered in Center Harbor, N.H., produces Bigfoot CMMS for a variety of industries, from manufacturing to hospitality and tourism.
Since 2002, Bigfoot has helped more than 10,000 users worldwide improve facility and equipment maintenance operations with advanced capabilities that include preventive maintenance (PMs) and predictive maintenance, work order scheduling, maintenance requests, asset life cycle management, parts replacement inventory, and built-in reporting. Bigfoot CMMS' native functionality paired with its intuitive design allows maintenance professionals to implement the solution and get results quickly, often in a matter of weeks.
Visit http://www.bigfootcmms.com for a free trial of Bigfoot CMMS today.