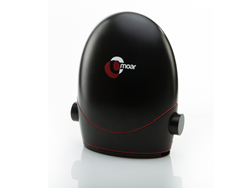 London (PRWEB) July 15, 2014
After a big success at E3 this year, where Cmoar Smartphone Viewer was first revealed, Cmoar Ltd. - the company behind it, is now prepared to make the final step that will allow them to complete the work on the device and release it on the market. One last thing missing though is the community support and to get it the company decided to start a Kickstarter campaign to make Cmoar Smartphone Viewer a reality.
To watch the movie presenting all the features of the device visit:
https://www.kickstarter.com/projects/706938033/cmoar-personal-smartphone-viewer
Cmoar Smartphone Viewer offers 2D and 3D cinema, Virtual and Augmented Reality in one, simple device. Unlike other similar devices available on the market that offer all those features separately, Cmoar allows to enjoy them all. So it doesn't matter whether somebody is a fan of Virtual Reality in games, Augmented Reality for learning or they're fond of watching movies in the best quality possible. From now on, one won't have to make a difficult choice of what feature they prefer and what device to buy.
To reach the goal, the development team has been working on creative implementation and adaptation of the technology that's already there – the smartphone.
The device is compatible with over 100 different smartphone types and models. However, it's important to remember that since the smartphone is the heart of Cmoar Smartphone Viewer, the better model one has, the larger the display and the better resolution, the better Cmoar one gets.
The list of all compatible models and their features can be found here: http://www.cmoar.com/phones.pdf.
Cmoar Smartphone Viewer is not only a device as such but it comes with a set of ready to use apps developed by Prosper Games Studio.
Cmoar Personal Viewer Kickstarter campaign lasts until 14th of August and the developers are aiming to raise 60,000 GBP. The lowest pledge is 1 GBP. However, to get the product, backers will need to pay 45 GBP - 70 GBP. Once the campaign is successful, first items of Cmoar Personal Viewer will be available on the market in December 2015.
For more information about Cmoar visit 
http://www.cmoar.com, their facebook profile, or follow them on Twitter.
You can also back this project on Kickstarter campaign:
https://www.kickstarter.com/projects/706938033/cmoar-personal-smartphone-viewer
For interviews, hands-on opportunities or any other press inquiries please contact contact(at)cmoar(dot)com or +48790636486.
All assets can be found under this link: http://bit.ly/1wa5qpn.