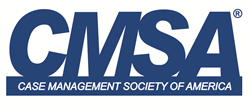 'Through the efforts of the entire national board, we will continue to support the growing number of case/care managers who provide quality, patient-centered care.' - CMSA President Nancy Skinner
Little Rock, AR (PRWEB) April 28, 2014
The Case Management Society of America (CMSA) will install three new members of the CMSA National Board of Directors this year after recently completing its 2014 election. In one of the closest elections in the Association's 24 year history, CMSA's membership has elected a treasurer and two directors to serve on the national board. The new leaders will begin their terms this summer at CMSA's 24th Annual Conference & Expo in Cleveland, Ohio, on June 17 - 20, 2014.
"After an election consisting of a very strong pool of candidates, we welcome the new members and anticipate their formal inclusion on the national board," said Cheri Lattimer, RN, BSN, CMSA Executive Director. "The wealth of experience, ideas and enthusiasm they bring will help to shape the direction of CMSA for years to come."
The following three leaders will be installed to the 2014-2015 Board of Directors:
TREASURER
Catherine E. Campbell, MSN, RN, MBA, CHC, CCM, FACHE
Rowlett, TX
DIRECTORS
Margaret P. Chu, RN, BSN, MPA, RNC, CCM, CPHQ
East Willston, NY
Janet S. Coulter, RN, MSN, MS, CCM
Maineville, OH
CMSA President Nancy Skinner, RN-BC, CCM, remarked, "The eagerness of so many members of the CMSA community to volunteer to lead demonstrates the importance and relevance of case management in a quickly changing health care environment. Through the efforts of the entire national board, we will continue to support the growing number of case/care managers who provide quality, patient-centered care."
CMSA is a professional membership organization of approximately 10,000 professional case managers, social workers and other health care professionals who work across the health care continuum to advocate for patients' well-being and improved health outcomes. The association's central mission is to provide the tools, resources and collaborative opportunities that support the community's needs in becoming more efficient, effective and competitive throughout their careers.
About the Case Management Society of America (CMSA)
Established in 1990, the Case Management Society of America is the leading non-profit association dedicated to the support and development of the profession of case management. CMSA serves more than 10,000 members, 15,000 subscribers, and 75 chapters through educational forums, networking opportunities, legislative advocacy and establishing standards to advance the profession. For more information, visit http://www.cmsa.org or follow CMSA on Twitter @CMSANational.