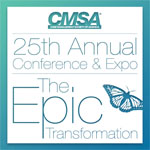 Little Rock, AK (PRWEB) January 27, 2015
This June, case and care management professionals will descend upon Orlando to transform their careers and discuss the ever-changing landscape of healthcare.
Registration opened today for the 25th Annual Case Management Society of America (CMSA) Conference & Expo, the sole health care event designed to deliver clinical, professional, regulatory and personal growth for care management professionals. The conference, themed The Epic Transformation, will be held on June 23-25, at Rosen Shingle Creek Hotel & Resort in Orlando, FL.
This year's content offers the opportunity for case managers to learn how to break down organizational silos, develop interdisciplinary teams and use the power of storytelling as tools for more effective patient engagement. In addition, the conference provides attendees with learning opportunities such as educational sessions, symposia, and poster presentations, along with professional networking opportunities with thought leaders in the field of case management.
The 2015 event is expected to welcome nearly 2,000 convention attendees and healthcare professionals to the Rosen Shingle Creek Hotel & Resort for a four-day conference with additional pre-conference activities. In addition, over 200 companies will welcome attendees at CMSA's 2015 Expo, providing invaluable information, demonstrations and new contacts that will advance their abilities to recommend and implement the latest case management products and services when attendees return to their practice.
Keynote presenters will engage, entertain and inspire attendees through their unique and diverse perspectives on topics of change, growth and renewal. This year's keynote presentations will feature: founder of the Dear World Project & co-founder of Evacuteer.org, Robert X. Fogarty; Distinguished Research Fellow at Washington and Jefferson College & author of "The Story Telling Animal: How Stories Make Us Human," Jonathan Gottschall; and Emmy Award-winning New York Times Well columnist, health advocate and cancer survivor, Suleika Jaouad.
"Case managers can have a huge impact on institutionalizing care that is safer, more effective and patient-centered, and our annual conference provides all of the elements necessary for case managers to continue to lead the way," said CMSA President Kathy Fraser, RN-BC, MSN, MHA, CCM, CCRN. "In addition to the educational and professional value that CMSA's conference always delivers, this year's event will emphasize the importance of expanding one's potential and perspective through active communication, leading us to do our jobs better while keeping the needs of patients in the forefront."
Learn more and register for CMSA's 25th Annual Conference and Expo at cmsa.org/conference.
About the Case Management Society of America (CMSA)
Established in 1990, the Case Management Society of America is the leading non-profit association dedicated to the support and development of the profession of case management. CMSA serves more than 11,000 members, 20,000 subscribers, and 75 chapters through educational forums, networking opportunities, legislative advocacy and established standards to advance the profession. For more information, visit http://www.cmsa.org or follow CMSA on Twitter @CMSANational.