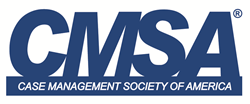 Little Rock, AR (PRWEB) July 10, 2014
The Case Management Society of America (CMSA) is pleased to announce the launch of the Career and Knowledge Pathways (CKP) training program, a contextual learning platform for case managers providing a combination of video vignettes, gaming simulations and downloadable case studies.
This online program features content functionality for ease of use and catered to a variety of learning styles, with content presented in written narratives, video presentations, social learning, video vignettes, simulations, mentoring, and testing with continuing education credits.
Developed to address inconsistent on-boarding, case management turnover and lack of understanding in case management standards, CKP is an essential resource for managed care medical directors/leadership working to build a long-term sustainable workforce, new case managers entering the field, undergraduate nurses obtaining a BSN, and individual case managers looking for continuing education relevant to CMSA's Standards of Practice for Case Management.
The first course developed within the CKP learning platform is the Standards of Practice: The Foundation for Professional Excellence in Coordination of Care Across the Continuum. In the coming months, other educational topics will begin to be developed to add to the CKP learning platform.
Through making this training program available to case managers, CMSA hopes to fill a longstanding gap in case management education. Theoretical content has been available for many years, but practical instruction of basic concepts of case management, as well as skill development opportunities, have been left to the individual case manager and employers to determine and deliver. This has led to great variation in educational quality, content, and case management skill sets across the healthcare continuum.
To learn more about the Career and Knowledge Pathways (CKP) and to register for the first course, please visit http://cmsa.org/ckp.
About the Case Management Society of America (CMSA)
Established in 1990, the Case Management Society of America is the leading non-profit association dedicated to the support and development of the profession of case management. CMSA serves more than 11,000 members, 20,000 subscribers, and 75 chapters through educational forums, networking opportunities, legislative advocacy and establishing standards to advance the profession. For more information, visit http://www.cmsa.org or follow CMSA on Twitter @CMSANational.