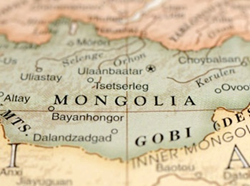 Our goal is to become the equipment rental company of choice in Mongolia.
Ulaanbaatar, Mongolia (PRWEB) November 07, 2013
Consolidation Services Inc (now Mongolia Holdings, Inc., the "Company") (OTCQB: MNHD) and its wholly owned subsidiary, Mongolia Equipment Rental Corporation, are pleased to announce that Hieronymus "Jerome" Niessen has been appointed to the Board of Directors of the Company.
Jerome Niessen is co-founder and Managing Director of NedPower LLC, a global infrastructure development and advisory services firm, focused on power and renewable energy. NedPower has developed wind farms internationally ranging from a 20 MW plant in India to a 264 MW plant in Mount Storm, West Virginia. The NedPower Mount Storm facility, completed in 2008, is the largest wind farm in the Eastern United States and is now owned by energy major Shell and Dominion Resources.
Mr. Niessen has over 25 years of project development and infrastructure financing experience. He spent close to 10 years with the IFC-World Bank Group, where his responsibilities included infrastructure, oil, gas and mining in South Asia, Latin America and Northern Africa. While at the IFC-World Bank, he consummated transactions in India, Pakistan, Peru, Chile, Venezuela and Argentina. Mr. Niessen earned a law degree from Leyden University in the Netherlands and an MBA from Baylor University. He is fluent in English, Spanish, French, German and Dutch.
Company Chairman and Former US Ambassador, E. Michael Ussery stated: "We are very pleased to attract an experienced international finance and infrastructure development professional like Jerome Niessen to the Consolidation Services team. His enthusiasm for our Hertz Equipment Rental business in the rapidly growing economy of Mongolia is invigorating."
About CNSV:
Consolidation Services Inc., through its wholly owned subsidiary Mongolia Equipment Rental Corporation, is the Hertz Equipment Rental franchisee in Mongolia. The exclusive franchise for Mongolia allows the Company to operate a business of renting, selling and maintaining equipment for use in construction, mining, materials-handling, commercial and industrial activities under the unique plan and system of Hertz Equipment Rental Corporation and Hertz Equipment Rental System.
About Mongolia:
Mongolia is one of the fastest-growing economies in the world. With double-digit GDP growth, a predominant mining sector and an influx of outside investment, the country is beginning to experience a boom in commercial and residential construction. Additionally, the Government of Mongolia has committed to significant infrastructure development to enable more efficient extraction and delivery of its natural resources to international buyers - primarily neighboring China. Mongolia is an independent, Western-friendly democracy of approximately 3 million people, leveraging its natural resource base and creating a thriving modern economy.
For more information, please visit: http://consolidation-services.com or http://mongoliaequipment.com.
Forward Looking Statement:
This press release contains forward-looking statements within the meaning of Section 27A of the Securities Act of 1933, as amended, Section 21E of the Securities Exchange Act of 1934, as amended, and under the 'safe harbor' provisions of the Private Securities Litigation Reform Act of 1995. All statements other than statements of historical facts included in this press release are forward-looking statements. Without limiting the foregoing, the words "believe," "anticipate," "plan," "expect," "seek," "potential", "estimate" and similar expressions are intended to identify forward-looking statements. These statements relate to future events, including the Company's expectations regarding Mongolia's economy, development and potential growth and the Company's and its subsidiaries' business and operations in Mongolia, or to the Company's or its subsidiaries' future financial performance, and involve known and unknown risks, uncertainties and other factors that may cause our actual results, levels of activity, performance or achievements to be materially different from any future results, levels of activity, performance or achievements expressed or implied by these forward-looking statements. Investors should not place any undue reliance on forward-looking statements since they involve known and unknown uncertainties and other factors which are, in some cases, beyond the Company's control which could, and likely will, materially affect actual results, levels of activity, performance or achievements.
Any forward-looking statement reflects the Company's current views with respect to future events and is subject to these and other risks, uncertainties and assumptions relating to operations, results of operations, growth strategy and liquidity. Such risks, uncertainties and other factors which could impact the Company and its subsidiaries and the forward-looking statements contained herein are included in the Company's filings with the Securities and Exchange Commission. The Company assumes no obligation to publicly update or revise these forward-looking statements for any reason, or to update the reasons actual results could differ materially from those anticipated in these forward-looking statements, even if new information becomes available in the future.