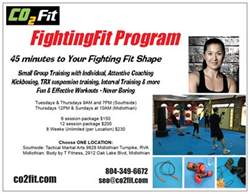 I'm so excited to open my studio up to Seo to empower more people to get fit and have fun.
Richmond, VA (PRWEB) March 26, 2014
CO2Fit recently announced the expansion of their signature Fighting Fit Program to a second location in partnership with Body by T Fitness of Midlothian Virginia. This marks the second partnership for the Fighting Fit Program, as CO2Fit continues its close partnership with Tactical Martial Arts Academy, the program's original location in the Southside of Richmond VA.
The 45-minute fitness sessions are limited to a maximum of 8 students, allowing coaches to provide personal attention to each attendant. The small class size allows each coach to cater to different goals and needs of each participant. The typical sessions include kickboxing, TRX suspension training, and CO2 interval training. Each session is designed to keep track of the progress of participants' individual goals.
"I have known Teresa since 2010 when we used to work at the same gym. She was a personal trainer and I was a small group fitness instructor. She would send her personal training clients to my classes and recommend them to incorporate into their cross training when they were not training with her. I guess how we met and became friends back then hinted at our future partnership," said Seo Kelleher, owner of CO2Fit.
"We both have gone off on our own creating our own fitness business and following since then. I started Body by T in 2010. Since Seo started CO2Fit in 2012, I have been enjoying and seeing how she has been growing her business and building a following of positive, inspired fitness enthusiasts. When an opening/opportunity at my studio for partnership opened up, Seo was the first one I knew I had to reach out to. I'm so excited to open my studio up to Seo to empower more people to get fit and have fun," said Teresa Davis, owner of Body by T.
At the Midlothian location at Body by T, the participant will have access to high-caliber personal training at more traditional studio setting. CO2Fit and Body by T plan to offer special discounted rates to the clients who are interested in cross training with both companies at the location.
At both locations (Midlothian and Southside Richmond), the participant will experience the same, high-energy, fun, customized coaching of Fighting Fit program. The Fighting Fit program is designed to meet the needs of every participant in the session. Those starting out on a fitness program will benefit from the small group training that combines individualized coaching with group camaraderie. For participants looking for a different challenge from their current training can also benefit by trying kickboxing and learning proper techniques from a trained martial artist and trainer.
Body by T Fitness is located on 2912 Oak Lake Blvd, Midlothian, VA
For more information, please visit co2fit.com or contact Seo at CO2Fit 804-349-6672.
Registration for the Fighting Fit session at both locations can be made here.
About CO2Fit:
Established in 2012, CO2Fit is located in Richmond Virginia. Founded by Seo Kelleher, CO2Fit aims to become the main fitness & wellness resource for the RVA community. Here at CO2Fit, we acknowledge that everyone's road to fitness is different and unique. We aim to find the best workout and health routine for every client, whether it is with CO2Fit or with one of many CO2 partners who share the passion of helping others in their specialized disciplines.
About Body by T Fitness
Established in 2010, Body By T Fitness is a boutique personal training studio owned by Teresa Davis, a national NPC figure competitor, mother, and a personal trainer. Body By T's mission is to teach, motivate and inspire others by example to live the fit life with balance and passion.