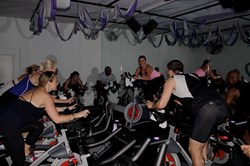 TidalWheel class burns 450-650 calories in just 45 minutes.
Richmond, Virginia (PRWEB) September 16, 2013
CO2 Fit welcomes TidalWheel RVA, a unique indoor cycling program with strength and core training to Richmond, Virginia Community.
TidalWheel is a boutique cycling studio with a focus on providing full-body, indoor cycling classes in a fun and energized environment. Headquartered in Virginia Beach, Virginia, TidalWheel classes offer the unique experience of a high-energy cardio and strength training exercise that works riders' core and upper body while keeping their heart rate up.
"Indoor cycling, also often referred to as Spinning, is a popular cardio and endurance work out. TidalWheel is a unique workout for your entire body, known to burn between 450 and 650 calories in just 45 minutes. It is a great choice for both experienced and beginner cyclists. CO2Fit is excited to be a part of introducing this new and effective fitness program to RVA community," stated Seo Kelleher, founder and owner of CO2 Fit and a certified TidalWheel instructor.
Unlike other indoor cycling programs offered as a part of gyms and fitness centers, TidalWheel RVA is a dedicated indoor cycling studio with upscale, boutique feel. The TidalWheel RVA studio is located on 5807 Patterson Avenue, adjacent to popular shops and other businesses on the Libbie & Grove area. This will be the second location for the Virginia Beach-based business with a third opening in Short Pump later this fall.
"We are excited to bring cutting edge cycling fitness instruction to Richmond. Our classes are a truly unique workout, and I can't wait to watch Richmond join Virginia Beach in the TidalWheel addiction," said TidalWheel Regional Manager, Alyssa Halter. "We are happy to see other boutique fitness services coming to RVA area. We have watched the progress of other fitness boutiques such as Richmond Barre in recent years and do not doubt TidalWheel is a good match for our core customer base that expects high quality, convenience and great service," said Leigh Johnson, co-proprietor of Shops at 5807, a specialty retail boutique located on 5807 Patterson Avenue. Johnson is also a part-owner of the TidalWheel RVA studio on Patterson.
TidalWheel program does not require previous indoor cycling experience. Full spectrum of courses will begin at the TidalWheel RVA Patterson studio on Saturday, September 21, with free Community Day classes occurring during weeks leading up to the opening day. For more information, please visit TidalWheel.com or CO2fit.com or contact Seo at CO2Fit 804-349-6672.