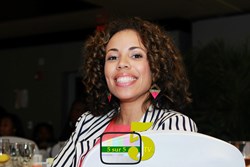 Miami, Florida (PRWEB) July 17, 2013
CARILEC is a not for profit association of Caribbean Utilities and their vending partners. The purpose of the CARILEC organization is to enhance communication among its members and to serve as the focal point for general and technical information.
This year's annual conference held at the Pegasus Hotel, located in Kingston, Jamaica. The conference's theme was "Trust Leadership - Strengthening our Commitment Unleashing our Potential." The conference was attended by Chief Executive officers, senior managers and communications professionals from the Caribbean region and beyond, with speakers drawn from the energy and more specifically the electric industry, complemented by expert input with various consultants in the field.
When CARILEC was looking for a social media speaker that could relate to the audience and do a very engaging and through presentation on the topic, they turned to Miami Public Speakers for help.
Jeff Zelaya, President at Miami Public Speakers recommended Casandra Roache also known as Coach Cass to do this keynote social media workshop. Coach Cass was chosen because of how she's personally used social media to grow her business, her excellent teaching and coaching skills and also because of her Caribbean background and the ability for her to better connect and relate with the audience members.
In her presentation, Casandra spoke about how organizations can benefit them and open up new markets for working in this beautiful part of the world which is still evolving as far as communications especially business communications are concerned.
Other areas that our social media keynote speaker covered were:
1. How to use social media with limited know how, limited budget, and how to transition.
2. How do you "sell" social media to a CEO who is cost conscious and operating in a monopoly
3. How to measure the success of social media
4. How to overcome the fear of using social media : the proverbial opening of Pandora's Box
The event was a huge success and Coach Cass will be back in Jamaica for the 2014 CARILEC Conference.
About CARILEC:
CARILEC will enhance the effectiveness of its members by providing industry related services, creating regular networking, training and knowledge sharing opportunities; supporting mutual assistance programs and being an advocate for the industry throughout the Caribbean.
About Casandra Roache:
Over the last seven years, Coach Cass' inspiring message of change has impacted thousands through speaking engagements, television appearances, and features in national publications such as Woman's Day and Black Enterprise magazine. Founder of InspireMany.com, Casandra provides people, with accountability, planning, and support, to take the most difficult step, which is the first step in the direction of fulfilling their dreams.
About Miami Public Speakers:
This local South Florida based speakers bureau represents the best local speakers.
Our mission is to help organizations find the public speaker that meets your need.
Miami Public Speakers has built a reputation of delivering speakers that will are huge hit at events.