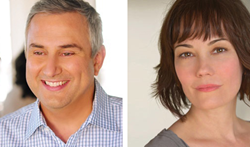 "CoachArt does so much more than just art and athletics. It delivers hope, community, and support to those who need it most."
LOS ANGELES, Calif. (PRWEB) October 05, 2016
Mark Suster, Managing Partner of Upfront Ventures, will be honored with the Heart and Humanity Award at the 12th annual Gala of Champions, to be held on October 27 at 6:00 p.m. at the Beverly Hilton and hosted by CoachArt, a Los Angeles-based nonprofit organization that provides arts and athletic opportunities to youth impacted by chronic and life-threatening illnesses. Additionally, actress Natasha Gregson Wagner, daughter of Natalie Wood and founder of the Natalie lifestyle brand and fragrance, will receive the Courage and Hope Award. The event also will feature an exciting musical performance from Venice, CA-based rock band Revel Makes.
The annual CoachArt gala honors individuals for exceptional professional success and personal humanitarianism. Business leaders, entertainment executives, community members, volunteers, and CoachArt families come together in support of the organization's mission to create a transformative arts and athletics community for families impacted by childhood chronic illness. At the 2015 Gala, more than 600 attendees helped raise nearly $1 million. Past Gala of Champions honorees include: Ashley Tisdale, actress and founder of Blondie Girl Productions; Chandra Wilson, actress on the hit TV show Grey's Anatomy; Jeremy Zimmer, co-founder and CEO of United Talent Agency; former Los Angeles Clippers player Matt Barnes; and TV anchors Robin Roberts and her sister Sally-Ann Roberts.
Founded in 2001, CoachArt uses the proven power of arts and athletics to spark students' imagination and build confidence by providing long-term, no-cost arts and athletic opportunities for chronically ill children and their siblings. CoachArt works with about 500 volunteer coaches and community partners to provide 10,000 free lesson hours to 1,000 students annually.
"It's an honor to be a part of this amazing event," Suster said. "CoachArt does so much more than just art and athletics. It delivers hope, community, and support to those who need it most."
Multiple sponsorship opportunities are still available for the 2016 CoachArt Gala of Champions. For additional information or Gala tickets, please visit http://coachart.org/gala/ or contact CoachArt's Development Manager, Jen Maduko, at gala@coachart.org.
About CoachArt
CoachArt creates a transformative arts and athletics community for families impacted by childhood chronic illness. CoachArt was founded in 2001 by Zander Lurie and Leah Bernthal, in memory of Zander's father, Dr. Arthur Lurie, a cardiac surgeon who recognized the need for long-term support and enrichment amongst the pediatric patient population. Today, CoachArt offers high-quality arts and athletics activities to about 1,000 children annually in the Los Angeles and San Francisco Bay Areas with the support of 500 volunteers and community partners. To get involved with CoachArt as a volunteer or participate in its activities, please visit http://www.CoachArt.org or call (213) 736-2850.
About Mark Suster
Mark Suster is a Managing Partner at Upfront Ventures, which he joined in 2007. Before Upfront, Mark was Vice President, Product Management at Salesforce.com following its acquisition of Koral, where Mark was Founder and CEO. Prior to Koral, Mark was Founder and CEO of BuildOnline, a European SaaS company that was acquired by SWORD Group. Earlier in his career, Mark spent nearly ten years working for Accenture in Europe, Japan and the U.S. He lives in Los Angeles with his wife and two sons.
About Natasha Gregson Wagner
Natasha Gregson Wagner, who grew up as Hollywood royalty, is the daughter of Natalie Wood and Richard Gregson and stepdaughter of Robert Wagner. Natasha has appeared in several indie films since her debut in 1992's Fathers and Sons, and has also received acclaim for her stage work and television appearances. Earlier this year, Natasha and her sister Courtney founded the Natalie lifestyle brand and debuted Natalie Eau de Parfum. Natasha is currently working to expand the brand. She lives in Los Angeles with her husband and three children.
# # #