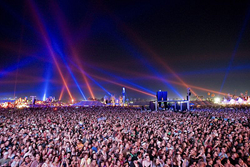 This may well be the most famous event of all for the Coachella Valley.
La Quinta, CA (PRWEB) April 09, 2014
Brad Schmett, Broker Associate with Luxury Homes by Keller Williams today announced that the upcoming April 11 – 13 and April 18 – 20 Coachella Music Festival at the Empire Polo Grounds in Indio will offer what will arguably be the biggest boost of the year for the local real estate community as thousands fled into the valley to attend.
The long-awaited and highly anticipated annual event always attracts a packed house with tens of thousands of attendees purchasing tickets well in advance. This year more than 150 musical acts will appear including Bryan Ferry, Ellie Goulding, Fat Boy Slim, Pharrell Williams, Queens of the Stone Age, Toy Dolls, Lana Del Rey, Beck and Arcade Fire. With Grammy award winning rappers OutKast leading the pack as major headliner this year's 2014 Coachella Music Fest is slated to be one of the most popular on record, possibly surpassing the famous Coachella Fest duet with Snoop Dogg and Tupac's hologram.
Schmett observed that, "This may well be the most famous event of all for the Coachella Valley. As music festivals go, I don't think anyone would argue that Coachella is the mother-lode. This valley is packed from one end to the other when April rolls around and Coachella gets underway. Billboards along the 10 freeway remind us of just how far-reaching this musical extravaganza really is. As with all the rest of our local events, once visitors arrive here in the Valley and get a taste of our beautiful weather, world class amenities and laid-back California lifestyle they want to stay. I expect our office, along with the rest of the real estate community will be busier than ever welcoming new neighbors."
With warmer than usual spring temperatures predicted many attendees will be arriving in recreational vehicles and motor homes. Advance tickets may be purchased for this normally sellout event him.
For more information on the 2014 Coachella Valley Music and Arts Festival visit http://www.coachella.com.
Find out more about investing in La Quinta, CA real estate.
About Luxury Homes by Keller Williams: Luxury Homes by Keller Williams – La Quinta, is an exclusive, elite and sophisticated group of real estate consultants raising the bar for service in the La Quinta and Palm Springs area residential real estate market.