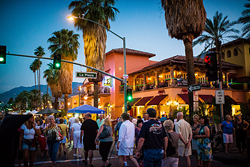 Things really do not slow down too much during the hotter summer months here in the Valley anymore.
Palm Springs, CA (PRWEB) June 03, 2014
Brad Schmett, Broker Associate with Luxury Homes by Keller Williams today announced that as schools let out for summer vacation and the many local Open Air Markets set special schedules to accommodate families during the cooler morning hours, luxury home shopping will be on the upswing. The Coachella Valley is a popular getaway spot for families during school vacation times.
The College of the Desert Street Fair, the Indio Open Air Market, and the Certified Farmers Markets in Palm Springs and Coachella will adjust their hours from June to October to allow for maximum shopping time during the cooler before noon period. Additionally from June through September the Palm Springs Village Fest will change their winter hours that normally run from 6 PM to 10 PM and will shorten them by one hour to from 7 PM until 10 PM.
Schmett commented recently, "Things really do not slow down too much during the hotter summer months here in the Valley anymore. With all the restaurants having misting systems and plenty of air conditioning everywhere, there are relatively few adjustments to make during the summer. However, among those adjustments are shorter hours for the various open air markets including our own here in Old Town La Quinta. With all the children home for the summer, the real estate community is also very busy since this is the optimum time for families to relocate. The luxury home market will definitely benefit as families take advantage of the summer months for vacations and moving."
The Coachella Valley enjoys several Certified Farmers Markets, Open Air Markets, and Village style shopping throughout the year. Perfect weather for most of the year lends itself well to the outdoor lifestyle of the Palm Springs area.
For more information on the Coachella Valley open air markets visit http://www.palmspringsopenairemarket.com.
To find out more about investing in Palm Springs, CA real estate visit PalmSpringsRealEstateInfo.com.
About Luxury Homes by Keller Williams: Luxury Homes by Keller Williams – Palm Springs, is an exclusive, elite and sophisticated group of real estate consultants raising the bar for service in the La Quinta and Palm Springs area residential real estate market.