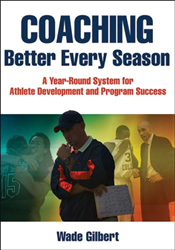 "Coaching Better Every Season has just become more possible for any coach who reads and applies the wisdom and best practices found in this book." – Anson Dorrance, Head Coach, University of North Carolina Women's Soccer Team, 22-Time NCAA National Champs
CHAMPAIGN, IL (PRWEB) December 05, 2016
In his forthcoming book Coaching Better Every Season: A Year-Round System for Athlete Development and Program Success (Human Kinetics, January 2017), author Wade Gilbert, PhD, provides key principles to help high school and college coaches improve the quality of their coaching and build and sustain winning sport programs. Rooted in Gilbert's own extensive research and that of leading coaching researchers, as well as the best practices from top coaches, Coaching Better Every Season merges the science of coaching and the wisdom of winning coaches worldwide.
Gilbert points out that the book, while solidly supported by research, is "an engaging read with lots of examples and practical applications that coaches will find interesting and useful throughout every part of the annual coaching cycle." He contends that coaches have the ability to achieve sustainable success through a system that includes key coaching activities during each of the four seasons: preseason, in-season, end of season, and off-season. Each season requires a specific coaching focus:
1. The preseason is a time to create a winning team culture. Core values and a sound coaching philosophy must be established for a strong foundation for the program. The coach and athletes then work together to set goals and build caring and trusting relationships.
2. The in-season phase of coaching is used to execute the season plan. Much effort is put into preparing practice plans and running effective practices, with each game requiring its own set of competition strategies. "Quality coaching during competitions depends on a coach's ability to notice the performance trends and make the right tactical adjustments at the right time," says Gilbert. "Efficient practices and high-quality in-competition adjustments are surefire ways to guide athletes to peak performance."
3. The end of the season is the time to evaluate the overall program. This requires a review of the coach, the athletes, and program performance. In addition to measuring performance statistics, successful coaches seek feedback from other coaches, the athletes, and athletic administrators. This is also the time to recognize athlete and team accomplishments formally and build on program strengths.
4. The off-season is when successful coaches work deliberately to enhance their coaching and programs. While it is a time to recharge, the off-season is also when successful coaches invest in their own professional development by building learning groups to address specific coaching needs and performance issues.
No matter where in the coaching cycle coaches find themselves, they can pick up this book and immediately apply the principles and strategies in their coaching. "By separating a coach's work into these four phases, I have provided a clear and manageable method for coaches to develop their athletes, their programs, and themselves in efficient and meaningful ways," Gilbert concludes. "If this method is applied each year, the favorable results compound, just as interest does in a good investment."
A coach's job doesn't end with the last game of the season. Building and sustaining a successful sport program require a purposeful year-round commitment to excellence. In his groundbreaking book Coaching Better Every Season, Dr. Wade Gilbert presents tangible coaching methods and practices for each season on the sport calendar and offers specific actions, tools, and guidelines for coaches to develop a cycle of continual improvement for their athletes, their teams, and themselves. For more information on Coaching Better Every Season or other coaching books and resources, visit HumanKinetics.com.
About the Author
Dr. Wade Gilbert is an award-winning professor in the department of kinesiology at California State University at Fresno. He has more than 25 years of experience in conducting applied research with coaches around the world spanning all competitive levels, including youth, high school, college, club, and Olympic programs. He was previously a postdoctoral fellow in sport psychology and talent development at UCLA. As the Human Kinetics Coach Education advisor ("The Coach Doc"), he writes articles and conducts webinars on a variety of coaching issues. Gilbert is also editor in chief of the International Sport Coaching Journal, published by Human Kinetics.
Gilbert holds degrees in physical education, human kinetics, and education from the University of Ottawa in Canada. He is widely published and is frequently invited to serve as a featured speaker at national and international events.
###