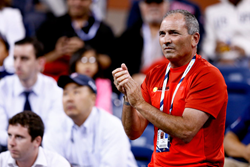 Helping Genie grow from an ambitious 12-year-old to No. 5 in the world has been an exciting journey, said Saviano
Plantation, Florida (PRWEB) November 24, 2014
Renowned tennis coach Nick Saviano announced today that he and Eugenie Bouchard have agreed to end their long-standing player-coach relationship.
"Genie and I have decided that it is best for us to end our player-coach relationship and to move in different directions for 2015. Helping Genie grow from an ambitious 12-year-old to No. 5 in the world has been an exciting journey," shared Saviano.
Genie, who has worked with Saviano for the past eight years, in a cooperative effort with Tennis Canada, won three junior Wimbledon titles before turning professional. After turning pro in 2013 she was recognized by the WTA with the "Newcomer of the Year" Award. Then in 2014 Bouchard reached the semifinals at the Australian and French Opens and the finals at Wimbledon, as well as the WTA World Championships in Singapore. It was a two-year run that saw Bouchard go from #144 to a career high #5, earning the 2014 WTA "Most Improved Player of the Year" Award.
"This past year traveling with Genie to all of the majors has been a wonderful experience with memories I will cherish for a lifetime. I have no doubt that Genie will accomplish great things. I wish her all the best," said Saviano.
Nick Saviano, who has coached numerous top tour players, will continue coaching world-class juniors and professionals at his Saviano High Performance Tennis program in Plantation, Florida.