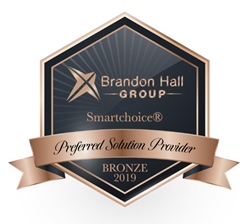 Coassemble is a simple yet intuitive team training platform
BOCA RATON, Fla. (PRWEB) February 26, 2020
After an extensive review, Brandon Hall Group confirms that Coassemble is living its mission, to simplify the sharing of knowledge to enable success.
"Coassemble is a simple yet intuitive team training platform. Coupled with award-winning support from their team of experts, Coassemble offers an innovative and streamlined approach to growing teams to scale," says Michael Rochelle, Chief Strategy Officer, and Principal HCM Analyst at Brandon Hall Group. "With Coassemble, teams can transform their training into a highly engaging and interactive experience for the learner. Coassemble has reimagined the learning management system to deliver breakthrough results."
The analyst team at Brandon Hall Group has conducted an in-depth analysis of Coassemble to include their depth and breadth of products, services and market thought leadership. Brandon Hall Group uses rigorous standards for eligibility of the program leveraging over 25 years of industry experience.
"We are extremely proud to have been certified as a preferred solution provider with Brandon Hall Group. We are a relatively new provider in a highly competitive market, to have achieved this level of recognition is phenomenal. It is testimony to the hard work and dedication of our passionate team and recognition of a market-leading product," says Ryan Macpherson, CEO at Coassemble.
Brandon Hall Group has consistently been the leading independent analyst firm and confirms that Coassemble offerings measurably benefit the organizations they work with.
To learn more about Smartchoice® preferred vendors or to become one, please visit http://www.brandonhall.com/solution_providers.php.
--- About Brandon Hall Group Inc.
Brandon Hall Group is an HCM research and advisory services firm that provides insights around key performance areas, including Learning and Development, Talent Management, Leadership Development, Talent Acquisition, and HR/Workforce Management.
With more than 10,000 clients globally and 25 years of delivering world-class research and advisory services, Brandon Hall Group is focused on developing research that drives performance in emerging and large organizations and provides strategic insights for executives and practitioners responsible for growth and business results.
At the core of our offerings is a Membership Program that combines research, benchmarking and unlimited access to data and analysts. The Membership Program offers insights and best practices to enable executives and practitioners to make the right decisions about people, processes, and systems, coalesced with analyst advisory services which aim to put the research into action in a way that is practical and efficient. (http://www.brandonhall.com)
--- About Coassemble
Coassemble is an online training platform that allows organizations to simply share knowledge with their teams. Anytime, anyplace. Since their start as humble lines of code in 2016, they've always believed in delivering great user experience, outstanding customer support, and constant improvements. Coassemble likes to keep things simple, sleek and streamlined. Learning Management Systems are notoriously clunky. They've cleaned up the whole mess and combined the authoring and LMS tools into one easy-to-master platform.