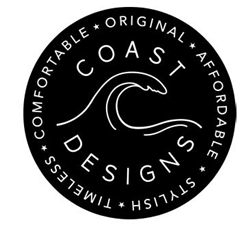 FREDERICK, Md. (PRWEB) March 08, 2021
COAST Designs will be having its Grand Opening Friday, April 16, 2021. COAST Designs is an interior design studio that showcases local artisans, unique finds, and offers a menu of design services. The company believes design should be Comfortable, Original, Affordable, Stylish, and Timeless, hence the name and acronym, C.O.A.S.T. The grand opening will be held Friday, April 16, 2021 during business hours, 10am - 6pm, at its design studio located at 18 E. 2nd St. in the heart of downtown Frederick, MD. COAST looks forward to bringing "everyday design" to everyone.
COAST Designs is excited to introduce its unique design to the local community. With the amount of time individuals and families are spending at home, everyone deserves to have a comfortable space that reflects their personality and provides a cozy escape from today's hectic world. Your home or office should make you feel relaxed, comfortable, and happy. Design is an essential part of attaining this goal and the company has spent years creating spaces that embrace you with one of a kind pieces that reflect your individual style and personality.
COAST Designs began modestly in Savannah, Georgia. After completing several personal fixer uppers, the company opened furniture booths and started designing for friends and family. COAST specializes in finding old furniture, interesting antiques, and lighting that can be reclaimed and repurposed into beautiful custom creations that will be used and admired for years to come. After relocating to Maryland, an opportunity presented itself to open a brick and mortar location. Although being delayed by the global pandemic, COAST forged ahead and soft launched its design studio in November of 2020. The company's name is based on the owner's love of all things water, but also reflects the design philosophy that your space should be as comfortable as it is stylish, but within an attainable budget.
COAST Designs is a Frederick, MD based company that proudly supports its local artisans and offers a menu of interior design services. The company was organically born in 2013 from a passion for design that is individually unique, purposeful, and functional. COAST Designs operates as a Limited Liability Company and is proud to serve the Frederick community and surrounding areas. For more information on how COAST can transform your space, please send an email to wendolyn.campbell@coast-designs.com or visit our website and FB page at http://www.coast-designs.com and https://www.facebook.com/COASTdesignsllc.