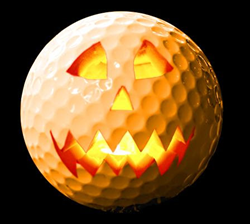 (PRWEB) September 30, 2014
As if breathtaking vistas and excellent golfing were not enough, Coastal Golfaway has arranged a Halloween golf special that will run through the entire month of October, and they are calling it Barefoot Halloween Madness. The special, which comes with low rates coupled with extra bargains and access to the best golf courses in South Carolina, costs $534 per person and offers the following features:

Three nights at the Barefoot Resort & Yacht Club
Three full rounds of golf
A fourth round of golf at no additional charges
The following golf courses are available to all guests who take advantage of the Coastal Golfaway Halloween golf special.
Barefoot Fazio—This course features dramatic changes in elevation while surrounded by native North Myrtle Beach low country trees
Barefoot Love—Challenging and enjoyable play surrounded by beautiful recreated southern plantation ruins
Barefoot Norman—Unique and visually appealing, this course blends seamlessly into the native landscape and offers challenging pitfalls to overcome
Barefoot Dye—One of the area's most beautiful yet challenging courses with picture perfect scenery and sparkling white sand
Along with these golf courses, the special gives golfers access to one of the finest resorts in the Myrtle Beach area. The Barefoot Resort & Yacht Club provides its guest with stunning views of the Yacht Club Marina and the Intracoastal Waterway. The special comes with a three night stay for up to four guests in one of the resort's beautiful two bedroom condos.
Accommodations include luxurious amenities such as a private balcony, an outdoor Jacuzzi, designer furnishings, granite kitchen countertops and access to the resort's acclaimed swimming pool—the largest one in South Carolina. The condo kitchens are well-appointed to make guests feel they are staying in a home away from home and the resort is close to several championship golf courses. Guests can also visit the Barefoot Landing where they will enjoy fine dining in any of the numerous restaurants as well as a bristling nightlife and enjoyable shopping in the Landing's stores and shops.
About Coastal Golfaway
Coastal Golfaway is a renowned golfing provider serving the Myrtle Beach area of South Carolina. While other golf providers emphasize either luxury or affordability, Coastal Golfaway puts the focus on these two elements as well as everything in between. With a full staff of golf specialists who know the area and have played the available courses, golfing enthusiasts interested in trying the acclaimed courses of Myrtle Beach can do so in the very best hands in the industry.