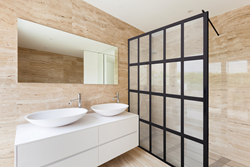 Las Vegas, NV (PRWEB) January 30, 2015
Coastal Shower Doors received high honors at the 2015 Kitchen and Bath Industry Show (KBIS) held in Las Vegas, January 20-22. The company's Gridscape Series was presented with first place in the Best of KBIS People's Choice Awards, which were voted on by attendees throughout the three-day show using the KBIS Mobile App.
Coastal, the largest producer of American-made shower doors, released the first Gridscape shower door design in May 2014, featuring oil-rubbed bronze windowpanes in a grid design intended to stand out as a focal point in one's bathroom. Then, at KBIS, the Gridscape second generation shower door, boasting a modern look with polished chrome aluminum profiles arranged in a repeating horizontal bar configuration, was released.
All Gridscape divided-light shower doors are available with a choice of three glass types: clear, satin and smoke grey. The clear glass option creates an industrial-modern look; the satin glass provides the feel of a Japanese shoji door, and the smoke grey delivers an opaque glass that pairs well with the Gridscape chrome finish.
"These shower doors are unlike anything available in the category," says Patrick Cobb, national accounts for Coastal Shower Doors. "Both are true statement pieces blending high style and function. They have been widely embraced, not just by designers and those in the industry, but by individuals looking to add interest to their bathroom design. One key to the success of the design is the versatility. It can be intermixed with an endless number of tastes and styles ranging from industrial modern/steampunk to rustic shabby chic."
KBIS showcases the latest industry products, trends and technologies. It has been the center of the kitchen and bath industry for the past 50 years. High-quality companies and products of the kitchen and bath industry attend every year and Coastal Shower Doors came out on top among the group.
"We are thrilled to be recognized among our peers for the quality and forward thinking design of the Gridscape door," says Cobb. "It's a great start to the year! We're looking forward to what the rest of it has in store for Coastal."