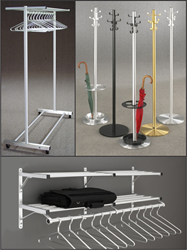 Glaro Inc.'s versatile line has been expanded in response to increased popularity of the core product line, the universal appeal of specialty satin aluminum finishes, and market demand for rust-proof aluminum construction.
(PRWEB) November 25, 2014
Coat hanging equipment manufacturer Glaro Incorporated now offers a broader line of coat hanging equipment in response to market demand and the upcoming winter season. Glaro Inc.'s versatile line has been expanded in response to increased popularity of the core product line and a lack of durable, functional products in the market.
Glaro Inc. specializes in all-aluminum coat hanging solutions with a fine satin finish. "The satin aluminum finish has gained notoriety because of its classic architectural look, its long lasting finish, and its ability to always maintain a clean look with minimal maintenance. The finish never looks outdated," says Executive Vice President Robert Betensky.
According to Glaro Executives, some of the reasons for the expansion are the universal appeal of Glaro's specialty satin aluminum finish and the rust-proof qualities of the aluminum itself.
These attributes make the coat equipment line particularly robust. "The satin finish on the aluminum is an authentic metal finish that cannot tarnish, rust, chip, wear, or peel," says Plant Manager Robert Glass.
Interestingly, although aluminum is advantageous, few manufacturers are equipped to produce products made from aluminum. Imported foreign products made of painted steel, wood and plastic, for example, are generally more cheaply made and not as durable. They tend to lack the sophisticated design of American made products and often require replacement because they become outdated and/or cannot maintain their finishes.
In house manufacturing has also helped Glaro Inc. expand the line and meet the company's high standards. Glaro Inc.'s products are distinctively manufactured here in the USA in a factory that is a "green operation." In house production and shipping help support the U.S. economy and guarantees full quality control over the entire production and shipping process.
For more information on Glaro Inc.'s coat hanging products, visit: http://glaro.com/Coat.htm. The entire coat hanging selection is in stock and ready for shipment, according to the Plant Manager.
About Glaro Inc.
Glaro Inc., a New York based company, manufacturers product lines including bellman and luggage carts, platform trucks, metal trash receptacles, smokers' posts and receptacles, crowd control posts and systems, safety barriers, signs, sign frames, directories, menu display stands, coat hanging equipment, coat trees, indoor umbrella holders, wet umbrella bag stands, metal planters, and key drop boxes. The company recently launched a line of disinfecting wipe dispensers, FDA approved wipes and coordinating receptacles.