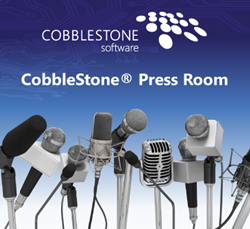 "We hope this guide elucidates why antiquated contract tracking methods can decrease their ROI and how to go about implementing a better contract tracking process to embrace legal operations digital transformation." – Bradford Jones, VP of Sales & Marketing at CobbleStone Software
PRINCETON, N.J. (PRWEB) March 22, 2022
CobbleStone Software – a Leader in contract management software solutions – features a free guide – "Contract Tracking: Mastering Contract Management Series." This blog details the how and the why behind ineffective contract tracking and teaches readers how to implement and manage a contract tracking process that meets their needs for improved contract lifecycle management, contract analytics, and more.
Readers can find out how to leverage a better contract tracking process that:
1. makes contracts easily accessible.
2. supports comprehensive contract reporting and contract analytics.
3. simplifies contract authoring, contract negotiations, and contract approvals…
…to see contract tracking process benefits #4-6, click here.
"We are excited to release our free guide on implementing a better contract tracking process," says Bradford Jones, Vice President of Sales & Marketing at CobbleStone Software.
"We hope this guide advises contract management professionals on why antiquated contract tracking methods can decrease their ROI and how to go about implementing a better contract tracking process to embrace legal operations digital transformation."
Read the free guide here.
Contact CobbleStone Software for a free demo and pricing information at Sales@CobbleStoneSoftware.com or by phone at 866-330-0056.
About CobbleStone Software:
CobbleStone Software is a celebrated leader in contract management software solutions whose flagship CLM software solution – CobbleStone Contract Insight – expedites contract management, vendor management, procurement, and sourcing processes while offering seamless integrations, ease-of-use, and high scalability. CobbleStone's contract lifecycle management solutions provide simplified contract and vendor tracking, highly configurable email alerts, user-friendly calendar notifications, intelligent contract workflow automation, highly robust security options, streamlined authoring of contract templates with dynamic clauses, centralized revenue/cost management, full-text indexing and searching, future-minded vendor/client ratings, complete document version control, custom contract management reports, speedy IntelliSign® electronic signatures, more intelligent contracts with VISDOM® artificial intelligence and machine learning, and more.
Follow CobbleStone Software on Social Media: