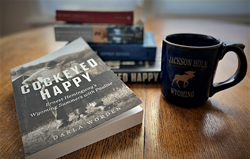 "'Cockeyed Happy' is not only a look into a famous marriage, but it's also a lot of fun to read," writes the Denver Post.
DENVER (PRWEB) February 03, 2023
After a year of wide acclaim, including from "Publisher's Weekly," which praised her "immersive debut," Darla Worden's "Cockeyed Happy: Ernest Hemingway's Wyoming Summers with Pauline" (Chicago Review Press, 2021) has been released in paperback. "It's fun to be able to offer readers this more casual option for stowing in a backpack or carry-on bag on their own travels," says Worden, who spent years of research uncovering the little-known tale of Ernest Hemingway's Wyoming adventures, as well as the underlying – and often overlooked – story of his marriage to his second wife, Pauline Pfeiffer.
"Cockeyed Happy" traces the arc of Ernest and Pauline's marriage across six summers spent in the state from 1928 to 1939. Wyoming, with its famously wide-open spaces and only intermittent opportunities to communicate with the outside world, offered a special kind of respite, and the couple's time spent riding, fishing and hunting in and around Sheridan, Jackson Hole and Yellowstone National Park quickly made it one of their preferred getaways. At the same time, the state provided a peaceful creative setting for Hemingway to write during some of his most productive years while also launching the rugged, adventuring outdoorsman image that would become his stock in trade.
But "for all its high-spirited anecdotes of the game Hemingway hunted and the cars he crashed, 'Cockeyed Happy' is also the slow burning story of a doomed marriage," writes "Esquire" in an in-depth interview that captures the book's deep dive into the rarely told perspective of Pauline, whom Worden calls "the invisible wife" – although she was to remain one of Hemingway's most valued editors, even after they broke up.
The engaging narrative nonfiction work reads like a novel, alternating between Ernest and Pauline Hemingway's points of view in a way that holds page-turning suspense even for readers who know from history how the story ends. Worden shaped the vivid descriptions and dialogue from copious research of the couple's letters and other sources, some freshly discovered as she traveled across the state visiting Hemingway haunts. Calling the book "an enticing story" in its review, the "Denver Post" writes, "'Cockeyed Happy' is not only a look into a famous marriage, but it's also a lot of fun to read."
The new paperback edition of "Cockeyed Happy: Ernest Hemingway's Wyoming Summers with Pauline" is available from Bookshop.org, Barnes and Noble, Amazon and independent booksellers. The book also is available in hardcover and eBook formats.
About Darla Worden:
Wyoming native Darla Worden lives in Denver, Colorado, where she is editor in chief of "Mountain Living" magazine. Worden also is founder and director of the Left Bank Writers Retreat in Paris and a journalist known for articles about art, architecture, travel and the West. Her quest to uncover the story of Hemingway's time in Wyoming was first sparked when she learned the author had spent a summer in her hometown of Sheridan and nearby Big Horn, Wyoming. For additional information about Cockeyed Happy and related book events, visit darlaworden.com or follow @authordarlaworden on Facebook and @darlaworden on Instagram.