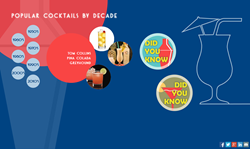 Discover which classic cocktail can contain more calories than a Big Mac and find out why at £8,888 per glass what is the world's most expensive cocktail.
(PRWEB UK) 18 December 2014
Originating in the early nineteenth century, the cocktail - described in 1806 as "a stimulating liquor, composed of spirits of any kind, sugar, water, and bitters" – had become established by 1860 as the preferred drink style of the elegant and sophisticated social set. The world embraced cocktails, with drinks 'mixologists' in different countries innovatively combining native spirits, liqueurs and ingredients to create new and distinctive drinks, such as Brazil's beloved Caipirinha or Mexico's Tequila Sunrise.
Today, cocktails have largely shaken off their air of exclusivity and can be enjoyed by anyone. In fact, Harpers, the UK's leading wine and spirit industry commentator, reports that in the last two years the soaring popularity of cocktails has resulted in an unprecedented growth in sales of almost 11%. They add that the mojito, a cocktail originating in Havana and which combines Cuban rum with fresh mint and ice, is the current drink of choice.
To coincide with the holiday season and to celebrate this widespread growth in the popularity of cocktails, AlphaHolidayLettings.com – the UK's leading holiday accommodation rentals portal - has launched a fun interactive infographic all about world cocktails.
The feature can be viewed at: http://www.alphaholidaylettings.com/cocktails_from_around_the_world_guide
Visitors can learn fun and interesting facts about cocktails from around the world. Here, for example, they will discover which classic cocktail can contain more calories than a McDonald's Big Mac burger, find out why, at £8,888 per glass the Gigi is the world's most expensive cocktail and learn which cocktails were the most popular in every decade from the 1950's to the current day.
Packed with interesting facts and information about cocktails from all around the globe, Alpha Holiday Lettings' latest infographic is sure to be a talking point among partygoers, cocktail enthusiasts and anyone else who would like to find out a little more about the colourful and endlessly varied world of these wonderful drinks.
About Alpha Holiday Lettings
Alpha Holiday Lettings has rapidly established itself as one of the top holiday rentals portal sites in Europe and offers self-catering apartments, cottages and holiday villas in Spain, England, France, Portugal, Italy, Cyprus, Turkey and other self-catering destinations around the world. The majority of the properties listed on Alpha Holiday Lettings are privately owned and are booked directly with holiday home owners.