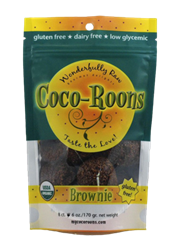 Watsonville, CA (PRWEB) December 02, 2013
Wonderfully Raw Gourmet (http://www.mycocoroons.com), makers of original, organic, raw and delicious treats, snacks and bit-sized morsels, announces its 'Holiday Giveaway for Coco-Roons.' This exclusive promotion for the full month of December allows people to submit their own content about their love for this brand, with the chance to receive complimentary samples of their favorite flavor or collection of flavors from Coco-Roons.
The content can include a blog post (with a product shot and link to the Wonderfully Raw Gourmet website), a post on an individual's personal Facebook page or Google+ account, a series of positive tweets about Coco-Roons or a video testimonial in favor of the brand. Individuals can send links to their writing, along with the actual text of their post in the same email, to orders (at) mycocoroons (dot) com. Wonderfully Raw Gourmet will share this material with existing consumers through the company's official Facebook and Twitter pages.
With six savory flavors (Brownie, Apple Pie, Lemon Pie, Almond Strawberry, Vanilla Maple and Cacao Nib), Coco-Roons are Wonderfully Raw Gourmet's flagship brand of critically acclaimed treats. Each flavor has an abundance of vitamins and minerals, complemented by the superior quality of organic Vermont maple syrup, versus lesser sweeteners like agave, which contains a large concentration of fructose. "Mini" versions of Coco-Roons are also available in Brownie, Lemon Pie and Vanilla Maple.
Best of all, Coco-Roons have none of the artificial seasonings, dyes, colorings, preservatives, corn syrup, chemicals and additives contained in the vast majority of conventional sweets. Instead, consumers can indulge their palate without fear of hidden calories, or large quantities of sodium and sugar, which quickly convert to fat.
"This giveaway is a chance for our most loyal fans, as well as those who are first-time buyers of Coco-Roons, to express their interest in our products and their appreciation for the great taste and sound nutrition we provide. We welcome – indeed, we enthusiastically encourage – people to showcase their creativity on behalf of Coco-Roons. We will respond to each submission, with a detailed and personalized letter of thanks. Now is the time to have fun and enjoy these delicious treats, so spread the word online among your friends and followers. We will reciprocate, while supplies last, by sending you your own holiday present of Coco-Roons," says Eric Hara, President and Creative Director for Wonderfully Raw Gourmet.
"We take the very best elements of Mother Nature – the richness of the environment and the organic sweetness, which surrounds us – and we bestow these gifts to shoppers throughout the United States. By transforming traditional treats and snacks into wonderfully raw, gourmet-quality items of healthy decadence, we give consumers the superb flavors they crave and the nourishment they deserve," says Sequoia Cheney, Founder of Wonderfully Raw Gourmet
About Wonderfully Raw Gourmet
Headquartered in Watsonville, California, Wonderfully Raw Gourmet creates a series of distinctive, delicious, organic, all natural snacks, treats and bite-size morsels, which are also gluten-free and dairy-free. Led by its flagship brand of Coco-Roons, which are available in six great-tasting flavors (Brownie, Apple Pie, Lemon Pie, Almond Strawberry, Vanilla Maple and Cacao Nib) and have a low glycemic index, this product (which is also available as "Minis") contains only the finest ingredients, including organic Vermont maple syrup (instead of agave, which has an excessive amount of sugar and calories), and appeals to consumers of all interests. In addition, the company has a new line of snacks, Brussel Bytes (Chili Pumpkin Seed Crunch and Tamarind Apple Crunch) and Snip Chips (Cheezy Herb Truffle, Chipotle Lime Cilantro and Dill Pickle), which are raw, healthy and vegan. For more information about Wonderfully Raw Gourmet, please visit http://www.mycocoroons.com.