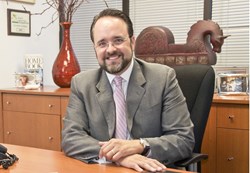 Cocoplum in Coral Gables is in high demand, taking property values to new levels!
Miami, FL (PRWEB) August 20, 2013
Cocoplum is well known for its exclusive waterfront properties and luxury estates. This year the selling price reached by their properties has been surprisingly high, as it almost reflects the prices previously paid during the boom years.
As the housing market continues to thrive, the actual demand for luxury homes is rising also, and consequently, the property values are increasing. As Cocoplum always has been the benchmark for South Florida's luxury communities, neighboring properties in Old Cutler Bay and Gables Estates have appreciated exponentially.
"Cocoplum is an exclusive gated luxury home community in south Coral Gables, with waterfront access. It was developed by Arvida Communities during the 70's," says Emilio J. Cardenal, Broker and CEO of Interinvestments Realty. "This community has a total of 483 residential lots, and almost all of them have been developed."
"The current average cost per square foot sold is from $500 -$700. The last home sold over $700 per square foot in this area closed at the end of 2009," explains Cardenal. "This has been a very active year in this particular community, where we have seen seventeen closings so far!"
"Currently, there are 22 residences listed for sale in Cocoplum, their asking price range from $1,980,000 to $25M, their sizes are from 407 square foot to over 1,100 square foot," adds Cardenal.
"Gables Estates is the leader fetching prices from $1,500 to over $2,500 per square foot," continues Cardenal. "The sales price in Gables Estates goes from $4M to $35M."
"Without doubt, the estates south of Coral Gables are very desirable communities for residents to enjoy waterfront activities. It is a private community with a high level of security and exclusivity," concludes Cardenal.
Coral Gables, where the Cocoplum neighborhood is located is recognized for its strict adherence to preserving its classic beauty, various sites from its yesteryears are a testament to that legacy, and vivid examples are, the Biltmore Hotel and the Venetian Pool. The City is also famous for its shopping on Miracle Mile and the Village at Merrick Park. Other attractions are Fairchild Tropic Botanic Gardens and the Deering Estate, which are considered historic landmarks. Mathison Hammock Beach and Park is also close by, and it is there where many of its residents enjoy a ray of sunshine.
Cocoplum offers 24-hour security and many others amenities such as a club house, fitness facility, tennis courts, playgrounds, a yacht club and beautiful manicured gardens in their common areas.
If you want to receive more information about Cocoplum properties for sale, know the latest opportunities in the new-construction market, or any other resale properties in the South Florida marketplace, please contact our corporate offices at the telephone number that appears in our contact information, next to this communication.