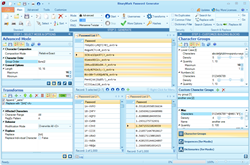 The product works great with the needs of creating truly random passwords with features like filtering out certain characters (l or 0).
Los Angeles, CA (PRWEB) October 21, 2013
BinaryMark, a company that offers automation and batch-processing software, has just announced the release of Password Generator 2014. This advanced, enterprise-grade software allows people to generate unique random passwords, keycodes, numbers, usernames and hashes that will exactly match specified requirements.
For the past 10 years, Password Generator has been one of the most innovative and versatile password generation tools on the market. The program offers various generation modes, including the Advanced mode, which is ideal for creating strong passwords, and the Number mode, whose random number generator can output random numbers that match a given statistical distribution as well as fall within a specified range. If precise positioning of characters is required, a powerful Mask mode allows one to easily create keycodes, PIN numbers and serial numbers.
Password Generator 2014 includes the most advanced set of features that are available on any type of random code generator application. For example, in addition to being able to generate literally millions of complex passwords of any length in mere seconds, people who use the codes generator program are able to control precisely which characters can appear, as well as where and how often. On top of that, all of this functionality is easily accessible thanks to the program's easy-to-use and intuitive user interface with contextual tooltips and Office 2010-like Ribbon UI.
Designed to meet high security standards, one of the program's built-in random number generators is FIPS-compliant cryptographically secure RNG; this helps to ensure that all of the generated passwords are as strong as possible. In order to make the randomly generated passwords unique, Password Generator 2014 features the handy Avoid Duplicates feature. This, together with the checks against lists of common passwords and words, as well as the ability to allow or disallow certain consecutive characters such as "abc", keyboard characters like "hjkl", and repeating characters like "ddd" further add to the security.
Password Generator 2014 is also completely customizable. For example, users may specify which characters to include; choose to exclude certain characters that are hard to differentiate from one another in passwords like 1 and l, as well as 0 and O; use words from user-defined dictionaries as well as sequential numbers. This marks the program as one of the top random string generators.
The software's enterprise features include database export, Cryptographically Secure FIPS-140 RNG, and duplicate removal; as well as a dedicate API and a library, which companies can use to utilize Password Generator's functionality in their own software solutions.
An article on the company's website offers a huge amount of in-depth information about the Password Generator 2014, including sample passwords, how the username generator works, and video demonstrations of the hash generator in action. The site also features positive customer testimonials from those who have already used the program.
"The product works great with the needs of creating truly random passwords with features like filtering out certain characters (l or 0)," noted John Romero from the Idaho State Department of Education.
"I spent some time trying various other password generation utilities, but Password Generator Professional was by far the easiest and most advanced," wrote James Robson, from the UK Atomic Energy Authority.
"I also have to mention the Customer Service which was both prompt and efficient."
Anybody who would like to learn more about the Password Generator 2014 is welcome to visit BinaryMark's website at any time; there, they can read about this password and code generator program and its numerous features, as well as download a free trial of the software.
About BinaryMark:
BinaryMark has been on the market for more than five years and specializes in automation, and batch-processing software, as well as select consumer applications. The privately owned software development company makes various software products and web services for individuals and organizations ranging from regular home PC users to IT professionals, and from small two-person firms to large corporations. For more information, please visit http://www.binarymark.com/products/passwordgenerator/default.aspx.