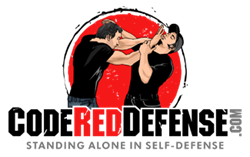 Code Red Defense is standing alone in self-defense
Laval, Quebec, Canada (PRWEB) January 27, 2015
Code Red Defense, the most effective and easily accessible self-defense system available, has recently released its new website, http://www.codereddefense.com. The website features a complete video course with 14 detailed self-defense instructional videos available through streaming or digital downloads.
The videos can be purchased alone or in a bundle, and no prior training or martial arts experience is necessary. Anyone can learn the best and most effective ways in which to defend his or herself and his or her loved ones. Additional, no-cost Code Red Defense videos can be found on YouTube.
Developed by self-defense experts Nick Drossos and Patrick V, Code Red Defense aims to keep individuals safe and smart during any form of conflict. The defense instructions cover a wide range of confrontations, including verbal, physical and psychological attacks. The website provides individuals with the tools to stay safe, fight if necessary, and defend others who may need protection.
When users sign up for the Code Red Defense newsletter, they will receive a complimentary instructional video, "Top 5 Dirtiest Self-Defense Fighting Tricks" along with practical advice detailing effective self-defense strategies.
About Nick Drossos: Main self-defense instructor Nick Drossos is a distinguished personal trainer certified by CanFitPro. Nick has trained in kung fu, taekwondo, Reality Based Self Defense, Mixed Martial Arts (MMA), boxing and kickboxing, and is also certified to teach TRX, Kettlebell and Fitness Kickboxing. Since 2009, Nick has used no-cost instructional YouTube videos to teach life-saving defense techniques, helping individuals accomplish everything from peacefully diffusing conflicts to successfully defending against armed opponents.
About Patrick V: Patrick has trained for several years in a Reality Based Self-Defense system, and has five years training in kickboxing and kung fu. A former security professional, Patrick has personally experienced dangerous situations. He has learned to respond to physical attacks and to control his instinctual adrenal response to a variety of conflicts.
About Code Red Defense: Code Red Defense aims to teach the importance of awareness and help people create a plan for potential unknown situations. The videos create visual blueprints to help viewers take on any attacker, even amongst the uncertainty of modern life. The lessons are easy to learn, effective, potentially life-saving, and empowering.
Code Red Defense aims to make everyone feel secure, prepared, and free of fear.