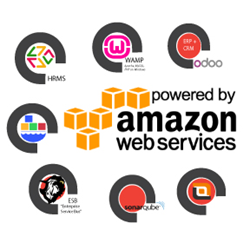 "Code Creator is empowering the user by saving customers time and money and getting them up and running on a much bigger scale instantly".
Hartford, Connecticut (PRWEB) October 06, 2016
Code Creator, a leading Connecticut based high tech cloud computing software company announced a new assortment of products available for immediate deployment on Amazon's Web Services. These offerings help users get up and running on the cloud without having to know the technical details required to get the software configured. What might take developers days to manually set up are now available in a just a few minutes with one click.
Code Creator's new collection of software offerings include products ranging from a Windows based platform stack to a code inspection application, a human resource and management suite and a document sharing management system. All applications are configured with hardware virtual machines (HVM) and come with a free 14 day trial. Users can visit the AWS Marketplace by going directly to the links shared below. Products include:

About Code Creator:
Code Creator deploys fast, elastic and dependable virtual remote applications for Amazon's Web Service (AWS) with one- click deployment. Code Creator's virtual servers remove much of the work involved in building and deploying solutions for Amazon's Web Service. Code Creator makes it practically effortless for users to install pre-configured cloud application servers and launch them instantaneously removing the technical process and time allotment needed for each new machine. Code Creator also provides technical support and services that many cloud developers need. For more information visit us at: codecreator.com or see all our cloud products at: codecreator.technology