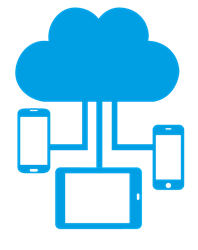 With this release, mobile enterprises now can provision and remotely manage the entire line of LG smartphones and tablets devices from a central cloud platform
Bellevue, WA (PRWEB) April 20, 2016
Codeproof Technologies, a leading cloud-based enterprise mobility security solutions provider announces the availability of exclusive LG enterprise mobile security capabilities within the Codeproof platform. Codeproof partnered with LG Mobile to integrate LG Android within its enterprise mobile security platform. The Codeproof cloud-based solution can now be used to remotely secure and manage all LG devices connected to your corporate network.
Codeproof offers SaaS enterprise mobile security software to small and mid-sized enterprises globally. Codeproof is committed to empowering businesses with convenient and reliable mobile security and management capabilities. The extension of Codeproof device management and security functionality exclusively for LG devices marks a new era for brand-specific mobile security in the enterprise market segment. With this technology, businesses can easily secure, deploy and manage mobile applications and corporate data on various mobile and IoT devices.
"Over the years, LG has developed a powerful enterprise mobile device security stack for LG Android, and Codeproof has extended this capability by adding a cloud based central management platform," said founder and CEO Satish Shetty. "With this release, mobile enterprises can now provision and remotely manage the entire line of LG smartphones and tablet devices from the centralized cloud platform."
"LG's embedded security software called LG GATE - Guarded Access to Enterprise - has extremely powerful security, unparalleled simplicity, and offers a seamless mobile work environment," said Michael Lombardo, Vice President, Sales & Marketing, LG Electronics MobileComm U.S.A., Inc. "The offering is valuable for employees, who get a fluid, easy-to-use smartphone experience while companies and IT managers get peace of mind."
Codeproof Mobile Security for LG supports following:
1. App Management - Silent application installation, un-installation and reporting.
2. Configuration Management - Remotely configure WiFi, Email and VPN services.
3. Mobile Kiosk Management - Disable QSlide, split screen, etc. and run a single app on the device. Customize kiosk screen with branding and company logo.
4. Application Whitelisting/Blacklisting - Allow only admin-specified apps on all enrolled devices. Centrally manage allow/block list from the cloud.
5. Advanced MDM tools - Remotely locate missing devices, lock devices, wipe data and detect jailbroken and rooted devices.
6. Secure Browsing - Admin controlled Web access. Centrally manage allow/block rules for Web browsing.
7. Inventory Management - Device inventory reports, application inventory reports and more.
8. Security Management - Central dashboard, security compliance report and admin alerts.
9. Cloud powered - The entire platform runs on the cloud. The solution is highly scalable, reliable and secure.
10. MDM API – Extend the management platform using our device management APIs.
More information about LG Mobile Security is here.
LG GATE provides powerful capabilities with over 400 API's to enable complete mobile device management and security control. With government-grade security and connectivity solutions, LG GATE provides a safe and sound mobile work environment.
About Codeproof
Founded in 2011, Codeproof is an enterprise mobile security company that enables businesses to easily secure, deploy and manage mobile applications and corporate data on company-and employee-owned (BYOD-Bring Your Own Device) mobile devices including IoT. With a focus on corporate data leakage prevention through mobile end points, Codeproof offers an integrated security and mobile management platform built on top of Amazon's elastic cloud stack for maximum scalability and security. Key features include Mobile Policy Management (location/Geofencing and time), Mobile Application Management, Mobile Device Management and Mobile Content Management, as well as ease of deployment for multiple device platforms, which enables businesses to quickly ramp up their security solutions, and managing of all devices from a single IT administrated cloud console. For more information, visit http://www.codeproof.com
About LG Electronics MobileComm U.S.A., Inc.
LG Electronics MobileComm U.S.A. Inc. based in Englewood Cliffs, N.J., is the U.S. sales subsidiary of LG Electronics, Inc. a global innovator and trend leader in the global mobile communications industry. LG is driving the evolution of mobile forward with its highly competitive core technologies in the areas of display, battery and camera optics and strategic partnerships with noted industry leaders. LG's consumer-centric products -- including the flagship premium G Series models -- incorporate unique, ergonomic designs and intuitive UX features that enhance the user experience. The company remains committed to leading consumers into the era of convergence, maximizing inter-device connectivity between smartphones, tablets and a wide range of home and portable electronics products. For more information, please visit http://www.LG.com