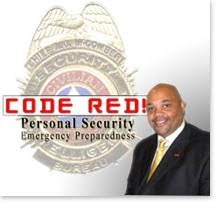 The online Just In Time Disaster Training videos that are available from the Disaster Resistant Communities Group can truly help both private citizens and first responders be much better prepared for a wide variety of critical emergency incidents.
Arlington, VA (PRWEB) January 15, 2014
During the next live episode of the Code Red! radio show specifically dedicated to personal security, safety and emergency preparedness issues across America and around the world, host Alfred McComber's special featured guests will include Emergency Preparedness Expert, Chris Floyd who worked for many years as a Chief Operations Officer with the American Red Cross in the State of Florida and since 2009, has served as principle of the Disaster Resistant Communities Group based in Tallahassee, FL.
Mr. Floyd visits the show to discuss his organization's ever expanding thought-provoking "Just In Time Disaster Training" video library that features a wide array of video training from various sources specifically related to disaster preparedness, mitigation, response and recovery for individuals, families, companies, organizations, agencies and first responder personnel.
Later in the broadcast, Lisa Schwing, a Registered Nurse and Trauma Program Manager with Dayton Children's Hospital in Dayton, OH stops by the show to talk about fireplace and other heat source dangers for children.
Sadly, among all accidental injuries, fire and burns are the number 5 cause of death in children 14 and younger but the good news is, Nurse Schwing will be providing important safety tips that can help keep children safer when they are near fireplaces and other heat sources.
The worldwide online Code Red! radio show broadcast is scheduled for Wednesday morning, January 15, 2014 from 10:00AM-11:00AM (Eastern). Listeners can tune into the live Code Red! radio broadcast from any internet connected computer device by visiting: http://www.trck.me/CRRS011514.
Listeners also have the option of calling in to the live show on (646) 478-5931 to ask our featured guests or radio host questions related to the topics being discussed.
The Code Red! radio show is hosted by long time high profile dignitary protection and veteran law enforcement officer Alfred McComber. The show, which has been airing since 2004, is specifically dedicated to helping civilians and first responders across America and around the world become much better prepared for all sorts of natural and man-made disasters and critical emergencies. For more details, visit Code Red!'s main website at: http://www.CodeRedRadioShow.com.