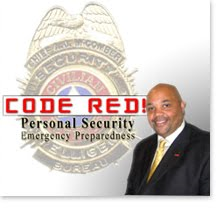 Protecting our vulnerable senior citizens and our youth from violence and other crimes is some of the most important work we can do to help keep America strong.
Arlington, VA (PRWEB) June 25, 2014
During the next live episode of the Code Red! radio show specifically dedicated to personal security, safety and emergency preparedness issues across America and around the world, host Alfred McComber's special featured guests will include Michelle Boykins from the National Crime Prevention Council who will stop by the show to discuss, "Protecting Senior Citizens In Their Golden Years."
Also during the broadcast, Wendy Pohlhaus from the U.S. Attorney's Office For The District Of Columbia will stop by the show live to discuss the upcoming "Breaking The Silence On Youth Violence" Summit that is taking place in Washington, DC on Friday, June 27, 2014.
Later in the show, Luke Russell from the national law offices of Gacovino Lake based in Sayville, NY will visit the show to discuss the growing problem of distracted driving and how it is causing deaths, serious injuries and major property damage. Luke will also reveal exactly how to obtain a free copy of the brand new e-book entitled, "Distracted Driving: The Multi-Tasking Myth."
The worldwide online Code Red! radio show broadcast is scheduled for Wednesday morning, June 25, 2014 from 10:00AM-11:00AM (Eastern). Listeners can tune into the live Code Red! radio broadcast from any internet connected computer or device by visiting: http://www.bit.ly/CRRS06-25-14. Listeners also have the option of calling in to the live show on (646) 478-5931 to ask our featured guests or radio host questions related to the topics being discussed.
The Code Red! radio show is hosted by long time high profile dignitary protection and veteran law enforcement officer Alfred McComber. The show which has been airing since 2004 is specifically dedicated to helping civilians and first responders across America and around the world become better prepared for all sorts of natural and man-made disasters and critical emergencies.
For more details, visit Code Red!'s main website at: http://www.CodeRedRadioShow.com.