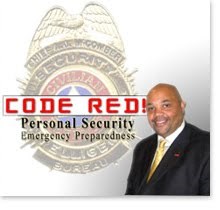 Prepare Magazine is a valuable publication that can truly help folks be much better prepared for all sorts of emergency situations.
Arlington, VA (PRWEB) October 09, 2013
During the next live episode of the Code Red! radio show specifically dedicated to personal security, safety and emergency preparedness issues across America and around the world, host Alfred McComber's special featured guest will be Joseph Miller, Founder and Chief Visionary Officer of Prepare Magazine.
The worldwide online radio broadcast scheduled for Wednesday morning, October 9, 2013 from 10:00AM-10:30AM (Eastern) will focus on many of the important emergency preparedness and safety topics covered by Prepare Magazine as well as how the publication has grown over the last 18 months from an idea to help people be better prepared to a full blown online digital magazine that now offers a bi-monthly full color glossy print physical magazine subscription service as well.
Prepare Magazine's mission is to build a strong and supportive community who share the passion and concern for preparedness with the goal to become an effective resource to equip those who have seen the need to be better prepared.
During this live radio broadcast, listeners will learn that Prepare Magazine could just help save their life or the life of a loved one or even a complete stranger because the magazine covers a wide array of thought provoking tips and strategies from surviving after a flood, water filtration essentials, handling evacuations, prepping on a budget, why bartering is back, developing a proper preparedness mindset, tornado emergency preparedness, combating resistance of a preparedness attitude and how the kitchen cabinet spice Cayenne Pepper can help stop bleeding, prevent infection and even help a person going into shock.
Listeners can tune into this specific live Code Red! radio broadcast from any internet connected computer device by visiting: http://www.trck.me/CRRS100913. Listeners can also call in to the live show on (646) 478-5931 and ask our featured guest or host questions related to the topics being discussed.
The Code Red! radio show is hosted by long time high profile dignitary protection and veteran law enforcement officer Alfred McComber. The show which has been broadcast since 2004, is specifically dedicated to helping civilians and first responders around the world be much better prepared for all sorts of natural and man-made disasters and critical emergencies. For more details visit Code Red!'s main website at http://www.CodeRedRadioShow.com