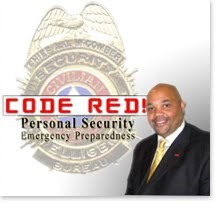 The two featured experts on this episode of the Code Red! radio show will be sharing extremely important tips and strategies that can truly help increase the personal safety and security of families across America.
Arlington, Va (PRWEB) October 23, 2013
During the next live episode of the Code Red! radio show specifically dedicated to personal security, safety and emergency preparedness issues across America and around the world, host Alfred McComber's special featured guests will include Alan S. Young, President & CEO of Armor Concepts who will be stopping by the show to discuss effective tips and strategies to help prevent intruders from breaking into homes or businesses.
While residents and business owners may already have an expensive alarm system or are considering installing one, the most logical solution to increase personal safety and security in residential or business locations is to keep intruders from gaining access to properties in the first place! Alan will share common sense tips and strategies to help fortify residences and businesses making them much less of a target for criminals.
Later in the broadcast, attorney Sean Maloney, Co-Founder of Second Call Defense
based in West Chester, OH will stop by the show to provide important information that any gun owner or concealed weapon permit holder needs to know when it comes to protecting themselves and surviving the aftermath of any self defense firearm shooting incident.
Sean will provide thought-provoking insight regarding "5 Firearm Self Defense Myths" and exactly what concerned individuals can do to effectively increase their legal protection and peace of mind before, during and after any incident involving the use of their firearm for self defense.
The live worldwide online Code Red! radio show broadcast is scheduled for Wednesday morning, October 23, 2013 from 10:00AM-11:00AM (Eastern). Listeners can tune into the Code Red! radio broadcast from any internet connected computer device by visiting: http://www.trck.me/CRRS102313. Listeners can also call in to the live show on (646) 478-5931 and ask our featured guests or host questions related to the topics being discussed.
The Code Red! radio show is hosted by long time high profile dignitary protection and veteran law enforcement officer Alfred McComber. The show which has been around since 2004 is specifically dedicated to helping civilians and first responders around the world be better prepared for all sorts of natural and man-made disasters and critical emergencies. For more details visit Code Red!'s main website at http://www.CodeRedRadioShow.com.