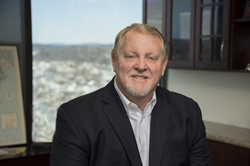 As we pursue opportunities to move Codero forward, our efforts will be facilitated by Codero's rock solid network of advanced, enterprise-grade data centers.
AUSTIN, Texas (PRWEB) August 08, 2019
Codero, a hosted solutions provider of IT infrastructure and cloud integration services to 3,000 customers worldwide, announces that William E. (Bill) King has been appointed as president and chief executive officer. King was previously president and managing principal of JSI Capital Advisors, LLC, an investment banking and financial services firm serving the strategic transactional needs of rural and community-based communications providers. King is a founding shareholder of Codero Holdings, Inc., a consortium of 35 rural communications providers that acquired Codero in 2015 and has served as a director and strategic advisor to Codero since the acquisition.
"I am excited to take on the honor and challenge of leading Codero to its next stage of growth," said King. "As we pursue opportunities to move Codero forward, our efforts will be facilitated by Codero's rock solid network of advanced, enterprise-grade data centers. More importantly, I am grateful that I will be accompanied every step of the way by Team Codero – a group of passionate and loyal employees committed to providing Serious SupportTM to our customers."
"I've worked with Bill for over 25 years. He brings a comprehensive knowledge of Codero and is uniquely qualified to lead the company through its next phase of growth," commented Leo Staurulakis, Codero's chairman of the board. "Bill's passion for Codero and its success is unquestioned, and his focus and energy will drive the company to new heights."
"Codero's role is to facilitate our customers' cloud initiatives by providing reliable, high performance IT infrastructure, the know-how to weave it all together, and the support to keep it running," said King. "Codero is a fantastic company with reliable assets, passionate employees and an impressive customer base. We have the foundation and essential ingredients to make a real difference for our customers and partners!"