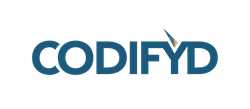 We started the year with a goal of 30% growth for revenue, which I'm happy to observe we're on the path to surpass.
CHICAGO (PRWEB) September 12, 2018
Codifyd, a leading provider of B2B Digital Transformation solutions, announces company updates and invites visitors to explore its new website, http://www.codifyd.com.
As the company wraps up the third quarter of a successful year, Codifyd continues to execute on its mission to work with leading corporations globally to bring about meaningful and measurable digital transformations.
The company announces impressive financial results by clocking 63% growth in sales revenue in comparison to the first half of 2017, and continues its march towards increased profitability. In the first half of 2018, Codifyd has expanded its existing relationships and acquired significant new logos across North America & Europe.
In the continued effort to widen its footprint in the market, Codifyd has appointed Vincent Maurici as VP of Strategic Initiatives. Vincent will be working with Codifyd's CTO & CDO organizations to strategize relevant solutions in the digital space that will boost the digital experience journey of our customers and their end users.
Additionally, Codifyd launched a new website this week to solidify the holistic, end-to-end digital experience solutions offered to clients, including: Commerce Strategy, Content Factory, Master Data Management (including PIM), Product User Experience, Mobility Experience, Experience Design and Analytics. Codifyd's product platform Bridge is transforming how leading corporations are ingesting and syndicating data to fuel their ecommerce growth.
"Thank you to my colleagues, our customers and partners who have been instrumental in our growth story so far this year. We started the year with a goal of 30% growth for revenue, which I'm happy to observe we're on the path to surpass," says Indranil Roy Choudhury, COO of Codifyd, "Codifyd is evolving into a premium digital experience company. We are seeing traction across all of our service & product lines as our customers continue to work with us to bring about meaningful & measurable change within their digital landscape."
About Codifyd
At Codifyd, we enable the world's top businesses to reach their digital potential. Using a holistic approach, we create a failsafe system for organizations to manage complex data and information required in today's digital environment. Our digital transformation services and technologies enable operational efficiency and financial growth for organizations and their channel partners, while providing a superior customer experience for end users. For more information on Codifyd, visit http://www.codifyd.com.