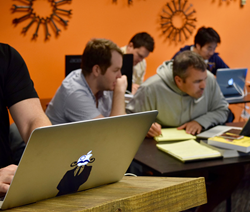 When coding bootcamps came about, classes were longer and extremely difficult. As the educational model has swept across the country, duration seems to have gone down in favor of the top line. We're bringing the focus back to quality and outcomes.
Atlanta, GA (PRWEB) November 18, 2015
Coding bootcamps are popping up in headlines around the country as the explosive growth and positive outcomes in the nascent industry shows real potential for disruption in education. While the 'learn to code' movement is young, competition has become fierce, and in Atlanta alone there are many programming classes for the aspiring developer and prospective bootcamper. Two Georgia natives, Max McChesney and Jake Hadden, believe they recognized a gap in the local offerings and partnered to seize the opportunity earlier this year. DigitalCrafts, formed in early 2015, successfully launched their first cohort in October, and currently has ten students enrolled in their 16 Week Immersive Web Bootcamp, expected to graduate in February of next year.
According to the founders, the reputation they are working to build is one of quality and difficulty, both in admissions standards and academic rigor. "On the West coast, some of the top programs boast 90+% employment rates amongst their alumni, with average graduating salaries north of $100k. In our region, few schools are even willing to share their placement statistics. I realize Atlanta may not claim the entry-level salaries of Silicon Valley, but we definitely aim to compete on student outcomes," says McChesney.
Measuring the success of a school solely by the employability of their graduates is a step away from most traditional educational institutions. So much of the success of an individual depends on intrinsic qualities, personal motivation, and actions post graduation. To increase the odds that their alumni leave satisfied, DigitalCrafts begins with a surprisingly stringent application process for a school with a brief history. "We wish we could accept every applicant and assure them 'anyone can learn to code.' And while I do believe most people can pick it up, it's another thing entirely to pick it up in 16 weeks or less. It's a ton of information, most of which consists of abstract and unfamiliar concepts, and it's moving at the speed of sound. Our program is hard, and the last thing we want to do is enroll an excited student only to have them grow frustrated at us, or worse, themselves. In addition to our online application, we ask every prospective student in for an interview and campus visit. We then require applicants to complete a Javascript-based code challenge. Our program is designed with beginners in mind, but we've found asking for this small extra effort up-front is the best way to ensure students have the motivation to successfully complete (and enjoy) our curriculum."
In an increasingly crowded landscape, DigitalCrafts has put significant effort into establishing an unique program and identity. The Immersive Bootcamp is 16 weeks, which is unusually long when compared to the industry average of 10. This decision stems from both McChesney's time as a bootcamp student himself, as well as market research gleaned from bootcamp graduates around the country. "I found 12 weeks was adequate for the top one or two students, but the overwhelming majority of graduates that I have spoken to support a lengthier program. When this educational model was born, classes were longer and extremely difficult. As the movement has swept across the country, duration and workload seem to have gone down in favor of the top line."
"We've also developed an elective program, which to my knowledge is the only one of its kind. Our immersive students have their core web classes from 9am to 5pm, Monday through Friday, but they also have the option to enroll in an iOS App Development Class in the evenings. The demand for native mobile developers has grown tremendously in recent years, and we want our students to be well-positioned for the future when they leave our program. The more tools you have as a developer, the more valuable you are to potential employers." In addition, the iOS evening class is also available to part-time students, allowing for schedules that can't accommodate a time-consuming immersive program.
The industry-wide satisfaction rates are encouraging, but code schools aren't cheap. The two largest bootcamps in Atlanta are between $12,000 and $13,500 for 12 week programs, and most schools, DigitalCrafts included, are unable to accept Federal student loans or Pell grants to help students shoulder the burden of tuition (though this may be changing soon, thanks to a new DOE "experiment" dubbed EQUIP). That said, specialty lenders exist that can help fill the void. "We've partnered with third-party lenders to bring affordable financing options to our students. On a dollar-per-hour-of-instruction basis, our tuition is 20-30% below others in the area, and we also offer scholarships to women and veterans to help get them coding. We want to be as financially accessible as possible, and we have several initiatives underway to that end."
DigitalCrafts' next cohort begins on February 29th, 2016 in Atlanta, GA.